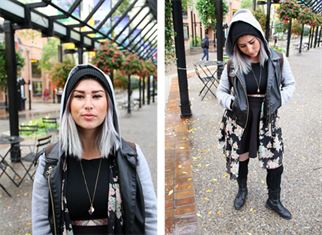 There's one sure way of finding your Inner Wolf - by wearing designer Ashya Elizabeth's beautiful and unique jewelry pieces. Her creativity doesn't just flow into her designs, as it's also apparent in her personal style and how she carries herself. With her bright hair and tattoos, she counter-balances these colourful parts with darker clothing choices - although she still continues to shine bright.
She's inspired, driven, creative and a beauty from the inside out. I've been rocking out my Inner Wolf necklace every day since I purchased it, and I can't wait to add to my personal Inner Wolf collection - so I'm confident to say that this creative young lady and her Inner Wolf are only going to keep gaining momentum and popularity from here.
Find Inner Wolf at -
Etsy: www.etsy.com/shop/innerwolf
Instagram: Innerwolfjewelry
How would you describe your personal style? 
My personal style is whatever I feel comfortable wearing that day! I wear a lot of black since it obviously matches everything! I'm already a really colourful person with my tattoos, so I try not to clash with my clothes.
What are some of your influences when it comes to fashion? 
To be honest, I don't have any "fashion influences." My influences would have to be whatever catches my eye that day. If I am out shopping, I try to keep it light but still fun! I'm not a huge up-to-date trend follower or setter, but I do my best to at least make sure I leave the house feeling confident!
What are some of your favourite destinations in Downtown Calgary? 
My favorite downtown spot is probably The Palomino! Really love the atmosphere there. If I have time during the day, it's always nice to grab a coffee and walk around Stephen ave.
What are some of your favourite stores and shopping destinations in Downtown Calgary? 
The Core.
What are some of your favourite trends right now? 
Lights!!! I'm really into colour right now. With my hair being purple, I really enjoy a good nude lipsticks.
What fashion advice would you give to others? 
Black always works. For everything. Period.
Tell us more about the projects and work that you're involved with. 
I currently moved back from Los Angeles not too long ago, so I've been just trying to get my name out there as much as possible. I've done Market Collective, Commonweath Collectors club, and now I'm waiting to showcase more of my work at upcoming Christmas markets!
What inspired you to start Inner Wolf Jewelry? How long have you been doing this for?
Every day life inspired me. I've been always the "artsy" side of the brain. Since I was young, I've always put my own twist on everything. I went to University for 3 years and didn't enjoy a single second of it. So I would always see the jewelry around and think "I can do that, but better" because I just saw something in it that made me want to create and be inspired. That was what I enjoy doing and it brings me happiness when I see other people wearing my creations. I am still quite new to this, but I'm only advancing and creating everyday.
What are some of your future aspirations?  
I plan on attending some classes to advance to metal smithing and creating.
How does your work influence your personal style? 
It's always what speaks to me. I relate to Amethyst a lot - so you'll see it in my jewelry, in my everyday colours. I have dyed my hair purple! My style and my jewelry are all tied together somehow!
Anything you'd like to add or tell us about? 
Just keep checking back, I update my instagram with all my new creations everyday. I try not to make everything twice and make it as original as possible!
(Product photos courtesy of Inner Wolf)
---