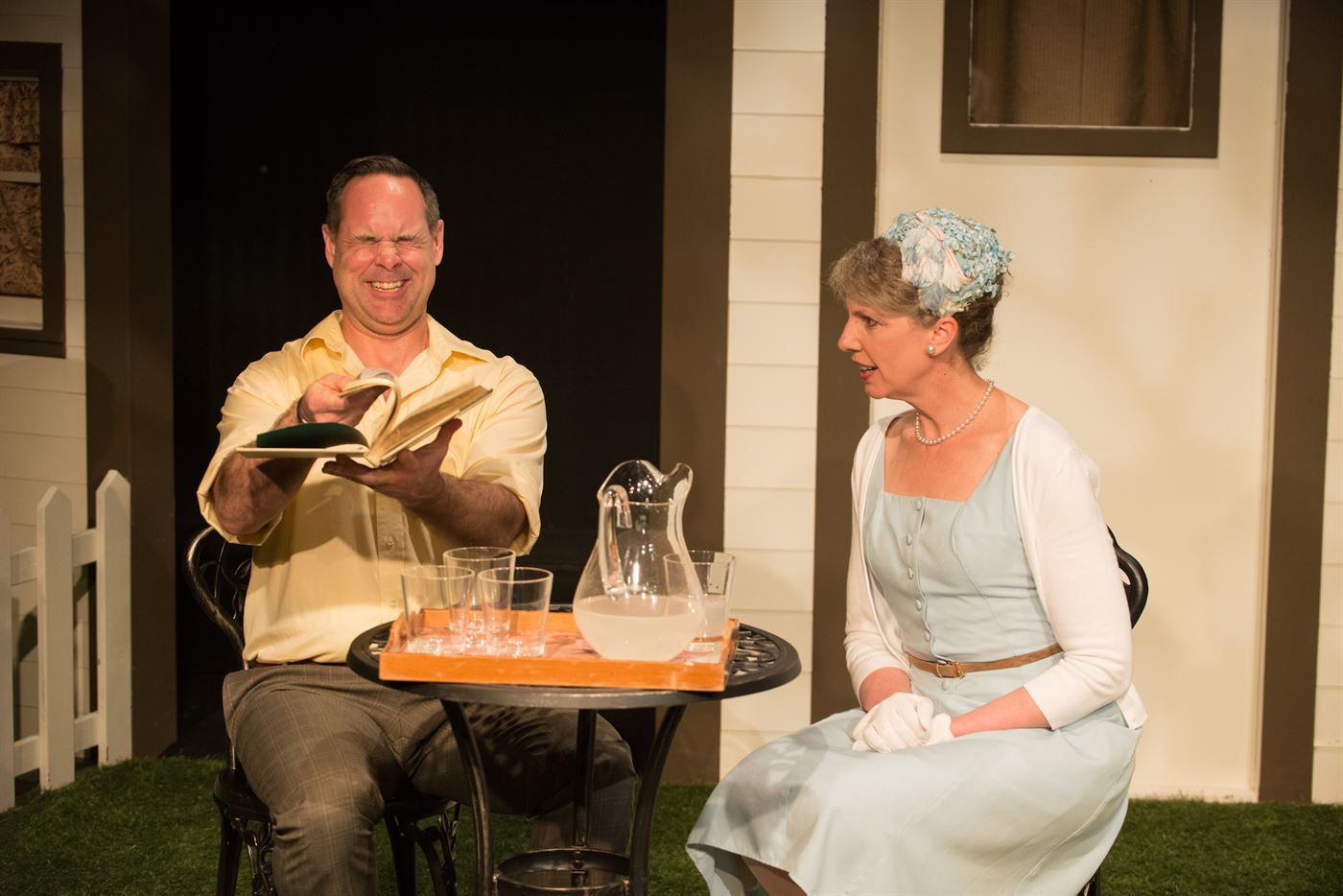 What was the best day of your life? Who did you spend it with?
Lunchbox Theatre's The Exquisite Hour throws two characters together for an hour and it winds up being one of the best hours of their lives. The play by Stewart Lemoine wins the audience over with its romanticism as the characters are willing to both be vulnerable in their engagement with each other.
The Exquisite Hour tells of a rather lonely man, Zachary Teale (Curt McKinstry) who is in his backyard, pruning his flowers. It's a quiet beginning to the play and it illustrates that Mr Teale has a bit of a solitary life. He then gets an unexpected visit from Helen Darimont (Barbara Gates Wilson) who is trying to sell him encyclopaedias. Mr Teale says that she can have an hour of his time, and she performs a most excellent sales job.
The thing that sells the play is the fact that McKinstry and Wilson throw themselves into their roles. McKinstry is awkward and illustrates this with every facial expression that he doesn't know how to talk to women. He is thrown off by this woman in front of him and how she challenges him. Wilson is off the wall, pretending to be hysterical in one moment and then switching to pretending to be a deer. It's all part of the charm of Lemoine's script, and these actors bring everything to life all under Samantha MacDonald's direction.
Terry Gunvoldahl's set further illustrates how Mr Teale's life is neat and tidy, by setting up his backyard with a white picket fence. All his neighbouring houses look exactly the same, they just get smaller as they go along. Julia Wasilewski's costuming has Wilson in a nice dress, with white short gloves and pearl earrings. It contributes to the ending quite nicely.
The Exquisite Hour is mostly focused on these two characters sharing an hour together but it also shows two people being open to opportunity. The possibility of it being the best hour of their lives.
The Exquisite Hour runs at Lunchbox Theatre until March 4th. More information is available online.
Photo Credit: Benjamin Laird Arts & Photos
---