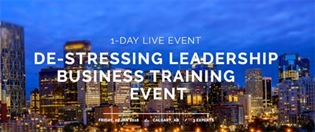 Everyone is talking about how the economy can be improved but no one is talking about the health risks posed from it. No one talks about the silent suicides, burnouts, stress leaves and heart attacks, among other things. According to Calgary Counseling, they have had a 15% increase in intakes and they think it is due to the economy.
There is a definitive relationship between stress and serious degenerative disease. Stress causes physical damage to the body.
It is for this reason that 3 of Canada's top health practitioners have come together to create Canada's first ever De-Stressing Leadership Live 1-Day Business training event to deal with the heart of this matter. Because of the economic downturn and the health effects it's had on Calgarians, they've decided to launch the first one here, and it's happening on Friday, Jan 29, 2022.
Their approach to helping professionals learn how to de-stress is quite novel and attendees will walk away already knowing how to implement these tools thanks to the included workshops. Whether someone's sources of stress stem from work issues, relationships (or lack-thereof), family or finances, all will be addressed.
If finances are tight, know that employees can be reimbursed for the ticket price because it is indeed a business-learning event – it will, after all, improve employees well-being and thus productivity.
Dr. Alan Chong, DC of Centre for Chiropractic Care, Dr. Joanny Liu, TCMD, brain expert of Extraordinary Sports Medicine, both of Calgary, and Carmen Dunn, Clinical Stress Nutritionist of Carmen Dunn Nutritional Consulting, Vancouver, BC will be presenting lectures and workshops at the Calgary International Hotel on Friday, January 29, 2016.
The three main topics are:
The 3 Mistakes Professionals make that keep them Stressed, Tired & Overweight – Carmen Dunn, CNP
The Disastrous Effects of Stress on The Brain as it Pertains to Alzheimer's – Dr. Joanny Liu
Sitting is Killing us! Reduce killer stress – Dr. Alan Chong
Tickets are on sale and currently there is a 2-for-1 special, so bring a colleague, friend or spouse that's under stress. Lunch is included as well as a wine cocktail afterward where attendees will get to speak 1:1 with the experts. www.destressingleadership.com
---