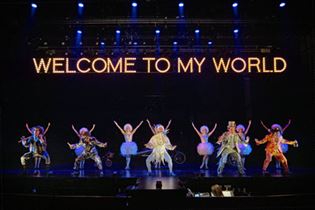 Le Petit Prince, or The Little Prince is the fourth most translated book in the world and was voted the best book of the 20th century in France. So the novella has been adapted many times into stage productions, but Theatre Calgary with Lamplighter Drama from London, UK presented the world premiere of the musical with lyrics adapted by Nicholas Lloyd Webber and James D. Reid. The musical opened on Friday night to a completely full house.
The musical tells of the story of a pilot (Adam Brazier) who crashes in the Sahara desert. He then meets a little boy, whom he calls the little prince (Sarah Caraher). The prince asks him to draw a sheep. The pilot then meets a snake (Louise Pitre) who explains that the prince has a promise to fulfill and has three days until it is up. She sends the pilot back into the past so that the prince can show him his home planet and his love, a Rose (Elicia Mackenzie). He could not be with the Rose, so he left the asteroid in search of a true friend. He meets several people along the way, and the little prince is skeptical of the world of adults. The prince then landed on earth and made a deal with the snake. In their search for water, the prince reveals secrets to the pilot that he has learned on his journey.
This production of The Little Prince is wondrous. Every audience member is given a little light so that they can act as a star during the performance. Dennis Garnhum's direction places us in the world of the story and that is quite the experience. Characters float off into the sky and Bretta Gerecke's set and costume design are quite impressive in capturing the imaginative story.
The problem that arises with this production is the story is told mostly through the lyrics of the songs.  Sarah Caraher's Prince sings quite high and struggles with the higher octave so that most of the lyrics are lost. Adam Brazier's pilot fills in the gaps a bit, but the narrative is jumbled when the audience can't really hear the words. The most dominant and audible is Louise Pitre's Snake. She is a strong character within the story. Jennie Neumann's Fox is also dynamic on stage.
The production is thrown off by this set back. The theatricality of the production is there and is great to see, but the story doesn't reach in and grab the audience. We don't feel like we've been on this journey with the prince. We are not struck by wonder. We are left wishing we could actually hear what they said.
Theatre Calgary's The Little Prince runs until February 28th. More information is available online.
---