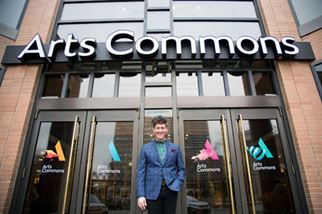 I'm extremely happy to be starting my 2016 Street Style Huntress adventures by introducing you to Josh Dalledonne and his awesome personal style - for those of you who are lucky to know Dalledonne, then you already know that he's sweet, and has a great style that incorporates a lot of fantastic pieces, most importantly, that of the animal print. On the day we photographed, it happened to be a bear printed shirt, which took me a few minutes to notice, but sure left me feeling delighted!
When describing his personal style, Dalledonne also speaks a lot about blazers and dressing not just for work, but also for mood - and I couldn't agree more. Especially when it comes to menswear, there's no quicker and easier way to pull your outfit together than with a great topper. Accessories are also important, as he demonstrates with a simple yet highly effective pocket square that gives his outfit the perfect dose of additional colour.
As for the title of this post - Ghost Stories - make sure you read the full Q&A to get your answer, as well as a little bit of insight into Dalledonne's life, projects, love of the arts, and personal style, of course!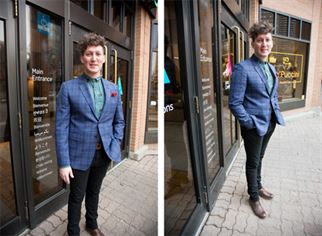 How would you describe your personal style? 
I'd describe my personal style as kindergarten chic; simple, functional and adorned with animals.
Alright, so I'm sort-of joking, but I am REALLY into animals on clothes (I have a t-rex t-shirt that I bought FULL price at The Bay… that's how much I like it). I enjoy being a bit of a style chameleon and letting my mood and the day's schedule dictate how everything comes together.
What are some of your influences when it comes to fashion? 
My friends - for sure - and the good lookin' downtown folk I come across everyday; Calgary's style game is on the up-and-up!
I'll browse through fashion magazines from time to time, but I like to see it worn in real-life by real people to know if it'll work for me, or if it is something to simply admire from afar. And of course I'm inspired when I travel - seeing styles that are totally different as well as variations on themes is a great way to freshen-up my eyes and approach.
What are some of your favourite stores and shopping destinations in Downtown Calgary? 
Club Monaco is a perennial favourite - simple and clean styles that are easy to dress-up or down, and a price-point that's right too. When I need to look like an adult - which does happen from time to time - or if I'm searching for just the right gift for my man, I'll head to Harry Rosen or Henry Singer; there's a special place in my heart for classic men's fashion and sensibility. The suit really does make the man.
And - of course - The Bay. Who doesn't love The Bay, right!? Every trip there is like being at the nicest garage sale ever, because you know you're going to come away with some screaming deal. I love gawking at the strange seasonal kitchen stuff and attempting to figure out the store's constantly changing organizing principle, I love having to safari-like search for what I'm hunting, and my all-time favourite part is when you get to the till and the completely silent haggling begins as each item is scanned and the secret discount that neither you nor the person at the till can explain. I love it because it's an absurd little adventure.
What are some of your favourite Downtown YYC spots? 
WINTER: Olympic Plaza with the circling groups of ice-skaters. One evening last week, it was lightly snowing and the twinkle lights were on and it was so perfect I honest to god shed a tear.
SUMMER: Prince's Island Park - for all the obvious reasons.
What are some of your favourite trends right now? 
Animals on everything!
What fashion advice would you give to others? 
There are only two situations where one should leave the house in sweatpants: (1) You have pneumonia and are at the pharmacy getting your meds, and (2) You are a single-parent whose child has pneumonia and are at the pharmacy getting their meds - end of list.
Oh, and also: it doesn't matter if you're wearing dirty sweatpants and an Iron Maiden belly shirt - if you put on a decent blazer you can go anywhere.
Tell us more about the projects and work that you're involved with. 
As the Associate Producer for One Yellow Rabbit I'm working on the 30th Anniversary edition of the High Performance Rodeo: Jan 7-31 in venues across downtown Calgary, more info and tickets available at hprodeo.ca! The festival has a focus on music and stories of astounding human triumphs that I know our late festival curator Michael Green would be proud to showcase - it's going to be a month long birthday party to remember. If you don't know what to see and you spot me out and about, stop and ask me - giving recommendations is a real pleasure of mine!
I'm also involved with the arts collective Humble Wonder - we have an annual Ghost Story Telling Competition, a series of dirty puppet shows and a couple projects in the hopper that I'm really looking forward to inviting people to. Stay tuned! @humblewonder and of course we're on the Facebook.
What are some of your future aspirations?  
I aspire to build a more vibrant and more diverse arts and culture scene here in Calgary - and this is the important part - for Calgarians. There was a time when I wanted the rest of the world to see our seriously excellent arts and culture scene as something to celebrate nationally and internationally; now, I couldn't care less. What I do care about is the quality, diversity and daring of arts and culture experiences available to Calgarians, and how accessible it is. I'm confident that the arts and culture scene will play a key part in unravelling this city's relationship to our viscous and volatile sacred cow. Now, more than ever, there is a critical mass of incredibly intelligent individuals here, and I want a vibrant and daring arts and culture scene to offer alternate perspectives, spark new ideas and provide the space to dream of a more sustainable and additive society and economy.
Also, I aspire to LEARN FRENCH! Seriously, I will either be bilingual or I swear I will die trying.
How does your work influence your personal style? 
My personal style has everything to do with work. Whatever I wear has to be versatile because I never know where the day may take me. For example, this past summer I started a workday by organizing One Yellow Rabbit's archives and cleaning out our storage area (i.e. sweeping up mouse crap) then found myself in meetings with some individuals I seriously respect, and finished the day at the President of the Banff Centre's house for a wine and hors d'oeuvres reception. So again, versatility is key - and keeping a jacket and change of shoes at work helps too!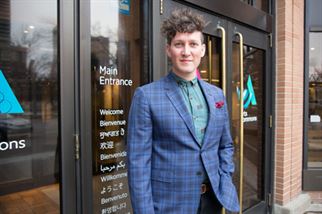 Anything you'd like to add or tell us about? 
Whether it's theatre, music, dance, performance / interdisciplinary art, opera, visual art, a literary reading, a lecture or any and all combination of those - I truly hope to see you out and about around Cow-Town. I know it's easy to get stuck in a go to work, go home, wash-rinse-repeat type cycle, but do yourself a favour and find something interesting to do; if only to give your couch and Netflix a break!
---