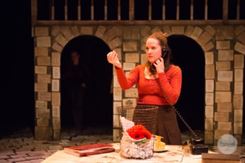 There is something completely refreshing about taking something conventional and flipping it on its head. Men playing all the roles in a play, including the roles of women. Men being the funny ones, making the jokes and getting all the laughs. Men being the heroes, who fight the battles and win the wars.
In Ann-Marie MacDonald's play Goodnight Desdemona (Good Morning Juliet), the playwright does just that. She examines Shakespeare's heroines. She takes the plays apart by having a character literally fall into them and change the course of the scripts within Romeo and Juliet and Othello. What the Shakespeare Company, Handsome Alice Theatre (formally Urban Curvz Theatre) and Hit & Myth Productions have done with this production, is having all the roles be played by women. It makes for an engaging play by having an incredibly thoughtful script combined with some great talent from prominent actresses in Calgary.
The play tells of Constance Ledbelly (Ayla Stephen) a professor who is obsessed with Shakespeare's tragedies and unraveling them. She wants to find out why there is no fool in Othello or Romeo and Juliet to prevent the tragedies from happening. Constance is going over her theories when she is interrupted by a student (Genevieve Pare) who is handing in her assignment, telling Constance that she was granted an extension because she was sick. Constance accepts this without hesitation.
Then comes Professor Claude Night (Mabelle Carvajel) who tells Constance that he is proposing to his girlfriend and taking a job that should really belong to Constance. This interaction weighs on her mind as she mysteriously winds up in Othello and Romeo and Juliet altering them to make them comedies and gets to know the heroines, Desdemona (Allison Lynch) and Juliet (Pare as well). Actress Julie Orton plays the cunning Iago and love-sick Romeo, while Lynch is also Mercutio and Carvajal serves as Othello as well as Tybalt.
Goodnight Desdemona is a bit slow to start out. The script explains itself or has a 'fool' point things out a little too much, but director Kate Newby has Orton play this part, and she has impeccable comedic timing and style. When the narrative starts to unfold, the play is quite engaging and funny, especially in how Constance derails Iago and stops the fight between Mercutio and Tybalt.
Jennifer Arsenault's set design is fascinating. There are pages of script from Shakespeare's plays (I assume) that make up the entire stage. Rebecca Toon's costume design helps to distinguish the characters and bring out their strong characteristics. Anton de Groot's lighting and sound design give the entire play a sense of fantasy. The only disappointing part of the script is that the plot line with Professor Night is never revisited.
Goodnight Desdemona (Good Morning Juliet) does border a bit on the odd side. But it's entertaining and refreshing, with ladies being the ones who fight the battles and are the heroines and are funny. And that's something that is worth seeing on Calgary stages.
Goodnight Desdemona (Good Morning Juliet) by the Shakespeare Company, Handsome Alice Theatre and Hit & Myth Productions runs until May 21st. More information is available online.
Photo Credit: Ayla Stephen in Goodnight Desdemona (Good Morning Juliet)
---