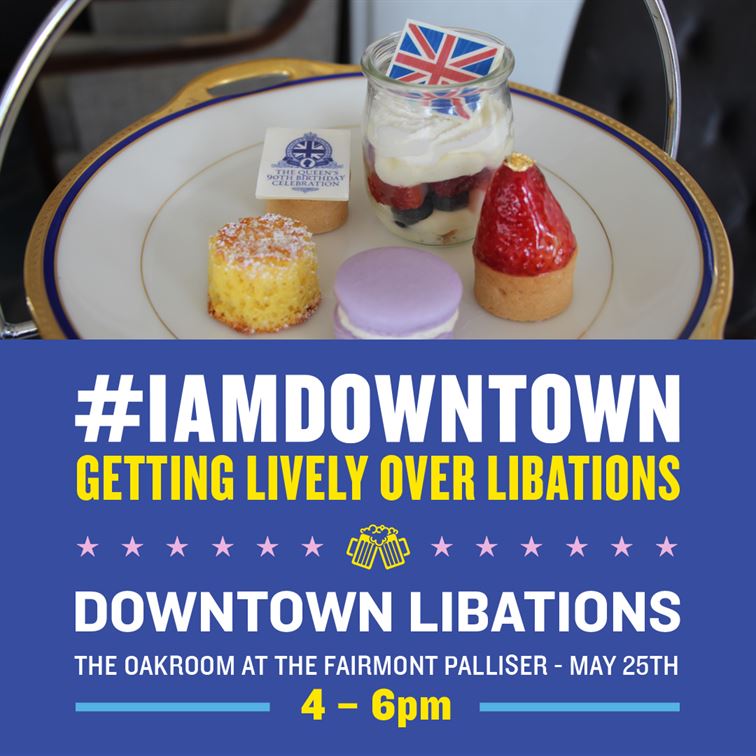 There are few places in Calgary as grand and steeped in history as the Fairmont Palliser, so we are very excited to be there on Wednesday, May 25th for a special British-inspired Downtown Libations in honour of Her Majesty, Queen Elizabeth II's 90th Birthday.
Come join us between 4:00-6:00pm in The Oak Room Lounge for a happy hour that will include a sampling of their brand new Queen-inspired Afternoon Tea menu.
There will be live music by Kate Melvina, who will be performing renditions of some British classics - everything from the Beatles to the Spice Girls.
The Royal Family will also be there - well, a fantastic cardboard version - and you're invited to take a selfie with them to share on social media with #PalliserRoyalTea for a chance to win a night's stay in the Palliser's Royal Suite, and be sure to enter the draw for an Afternoon Tea for Two!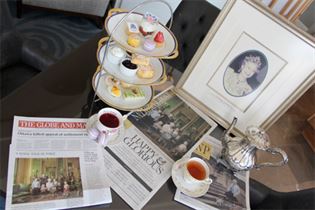 Their bartender will be mixing up some fabulous concoctions, including Her Majesty's favourite for $12 each.  Here's the list of cocktails fit for a Royal:
Dubonnet Cocktail - The Queen's Favourite 1 1/2 oz London Dry Gin No.3, and 3/4 oz Dubonnet stirred, poured over ice in rocks glass, and garnished with lemon peel.
Pimms Iced Tea - 2 oz Pimms, 1/2 oz lemon juice, and 3/4 oz simple syrup all shaken together and poured over ice in Collins glass, then topped with unsweetened iced tea and garnished with a lemon and lime wheel.
English Garden - 1 1/2 oz London Dry Gin No.3, 3/4 oz St Germain Elderflower Liquer, 2 oz apple Juice, and 1/4 oz lime juice shaken together and strained into coupe, and garnished with an edible flower.
Breakfast Martini - 2 oz Grey Goose, 3/4 Peach Raspberry Grand Marnier, 1/4 oz lemon juice, 1 tsp orange jam, shaken together and strained into a martini glass, then garnished with a lime wheel.
The Palliser will generously provide a few towers of their Afternoon Tea menu featuring: flourless orange cake, strawberry and cream tarts, lavender scented macaroons, lemon tarts, and berry trifle. Yum!
The Oak Room's menu can be found here. I was surprised at how many delicious and unique appies they have. I'm torn between the Crispy Chicken Skins with a citrus ponzu and the Roasted Bone Marrow with parsley, lemon, white anchovies, and capers. If your palate is a little less adventurous, they have many classics like Chicken Wings, Beef Tenderloin Sliders, and Flatbreads.
Their feature dinner menu for the week also sounds divine. The starter, a Lavender & Mint Bruschetta is also on my list of things to try. Entrées include Roasted Artichoke & Prawn Alfredo, Ginger Glazed Euro Bass, Chili Spiced Pork Tenderloin, and a Brussel Sprout & Cranberry Risotto. Dessert is a Nutella Crepe with maple drizzle, dulce de leche, and bacon gelato.  Seriously, how do you even choose?
Fairmont Palliser is located at 133 9th Ave SW. Dress code in The Oak Room Lounge is smart casual. Fascinators welcome!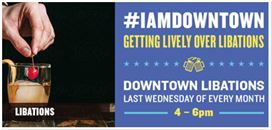 Downtown Libations is a monthly happy hour gathering. Each event will take place the last Wednesday of each month from 4-6PM at a different location Downtown and will feature special happy hour promotions and surprises. Mark your calendars early so you don't miss out on these fantastic events!
Upcoming Downtown Libations events:
Wednesday, June 29th at 4th Avenue Keg Steakhouse & Bar
Wednesday, July 27th at National 8th Rooftop Patio
More details on the Downtown Libations series can be found here.
If you'd like more info on upcoming events sign up for the Downtown Calgary Events Newsletter here.
---