Enjoy this Spanish Party with a lively Mariachi band sure to get you salsa dancing with your friends! Enjoy some sweet treats and refreshments from Starbucks and Jelly Modern Doughnuts!
Also, don't miss this opportunity to check out some of Calgary's unique vendors such as Family Freezed, Bernard Callebaut, Lobo Lounges and Green Line Hair Studio! The Calgary Bike Ambassadors will be present to answer any questions you may have about bike infrastructure.
The final series of Street Pianos is here with the Sing-a-Long series giving attendees a chance to get involved with the performance and sing-a-long! Performances will occur every Thursday throughout August. Lyrics are available by clicking here.
Dee Skappak will start off the Sing-a-longs. Emerging from the Western Canadian Music Scene, Dee is a little bit of all that is amazing. Rooting herself in classical piano from the ages of 12-15. She has since grown into an artist that pulls from all forms of musical inspiration such as, Jazz, Blues, Classic Rock, early 90's, Country & Opera.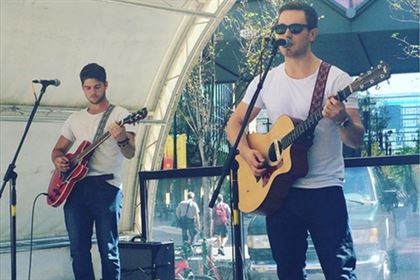 Look for the Stephen Avenue Summer Stage this August on 8th Avenue SW with special noon hour performances for artists of the Spaghetti Western Festival, Global Fest, and lots more unique talent!
[email protected] concert series welcomes coloratura Soprano Kathleen Morrison, a young Canadian talent who has been touted as having a "highly professional voice" (Kultur-Extra Berlin). Known for her powerful voice and dramatic abilities she is quickly becoming a sought-after performer on the international operatic stage.
Did you know this year is the Year of Music in Calgary? To help keep the party going, The City of Calgary has organized a number of free concerts on Wednesdays in Olympic Plaza from 12-1PM. So grab your lunch and maybe even your dancing shoes and come on down.
August 3 - Latin Spice
August 10 - East Meets West
August 17 - Take a short break to the Caribbean
---