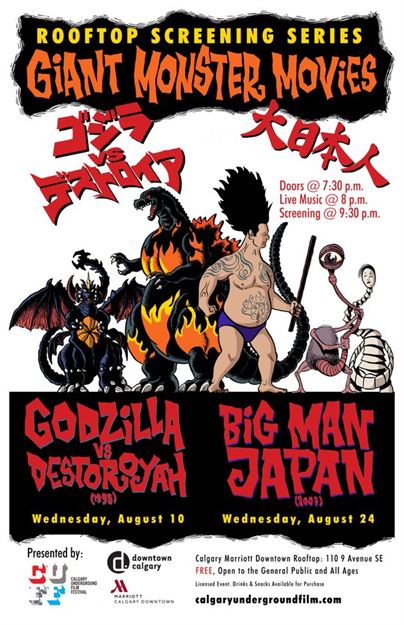 The Calgary Underground Film Festival has been providing Calgary with cutting edge entertainment for over a decade. For the last four years we have been hosting a Summer Screening Series where we present classic cult films in unique locations. Some examples include Tremors projected at the Big Rock in Okotoks to a series of cannibal related films paired with 'unique' food specials.
We wanted to continue this recent tradition and have joined forces with Downtown Calgary to screen Giant Monster Movies on the rooftop of the downtown Marriott. There will be food, drinks, bands and great times all around.
For this unique series we wanted to find the perfect films to match the perfect locations and what better movies to watch with the beautiful downtown skyline of Calgary in the background than giant monster movies where the creatures wreak havoc on a similar backdrop!
Event details:
Location: Marriott, 110 9 Avenue SE (use the side street entrance on Centre street)
Doors: 7:30 p.m.
Live Music: 8 - 9 p.m.
Screening: 9:30 p.m.
THE FILMS:
GODZILLA VS. DESTOROYAH, 1995, 103 Minutes
Screens Wednesday, August 10
With a supercharged blast from his nuclear past, a new Godzilla emerges from his own ashes, radioactive and ready to take on Tokyo. The great monster's nuclear energy is increasing by the minute and a monster meltdown threatens to vaporize the planet. Soon Godzilla must battle his deadliest challenge yet: Destoroyah. Godzilla Junior joins in and the Super X-III aircraft is enlisted to cool things down before Godzilla melts all the way to the planet's core. The action is hot and the special effects are chillin' in this high-tech, high-powered Godzilla thriller!
BIG MAN JAPAN, 2007, 110 Minutes
Screens Wednesday, August 24
A middle-aged slacker living in a rundown, graffiti-ridden slum, Daisato's job involves being shocked by bolts of electricity that transform him into a stocky, stick-wielding giant several stories high who is entrusted with defending Japan from a host of bizarre monsters. But while his predecessors were national heroes, he is a pariah among the citizens he protects, who bitterly complain about the noise and destruction of property he causes. And Daisato has his own problems: an agent insistent on branding him with sponsor advertisements, an Alzheimer-afflicted grandfather who transforms into a giant in dirty underwear, and a family who is embarrassed by his often cowardly exploits. A wickedly deadpan spin on the giant Japanese superhero, BIG MAN JAPAN is an outrageous portrait of a pathetic but truly unique hero.
---
This has been a guest blog post written by the Calgary Underground Film Festival to promote the free Rooftop Movie Screenings, happening August 10th & 24th on the Marriott rooftop patio. If you have an event or business that you'd like to promote on our blog, please contact [email protected] For more information on Upcoming Downtown Calgary Events, please sign up for our Weekly Newsletter, Like us on Facebook, Follow us on Twitter and follow Downtown Calgary on Instagram.
---