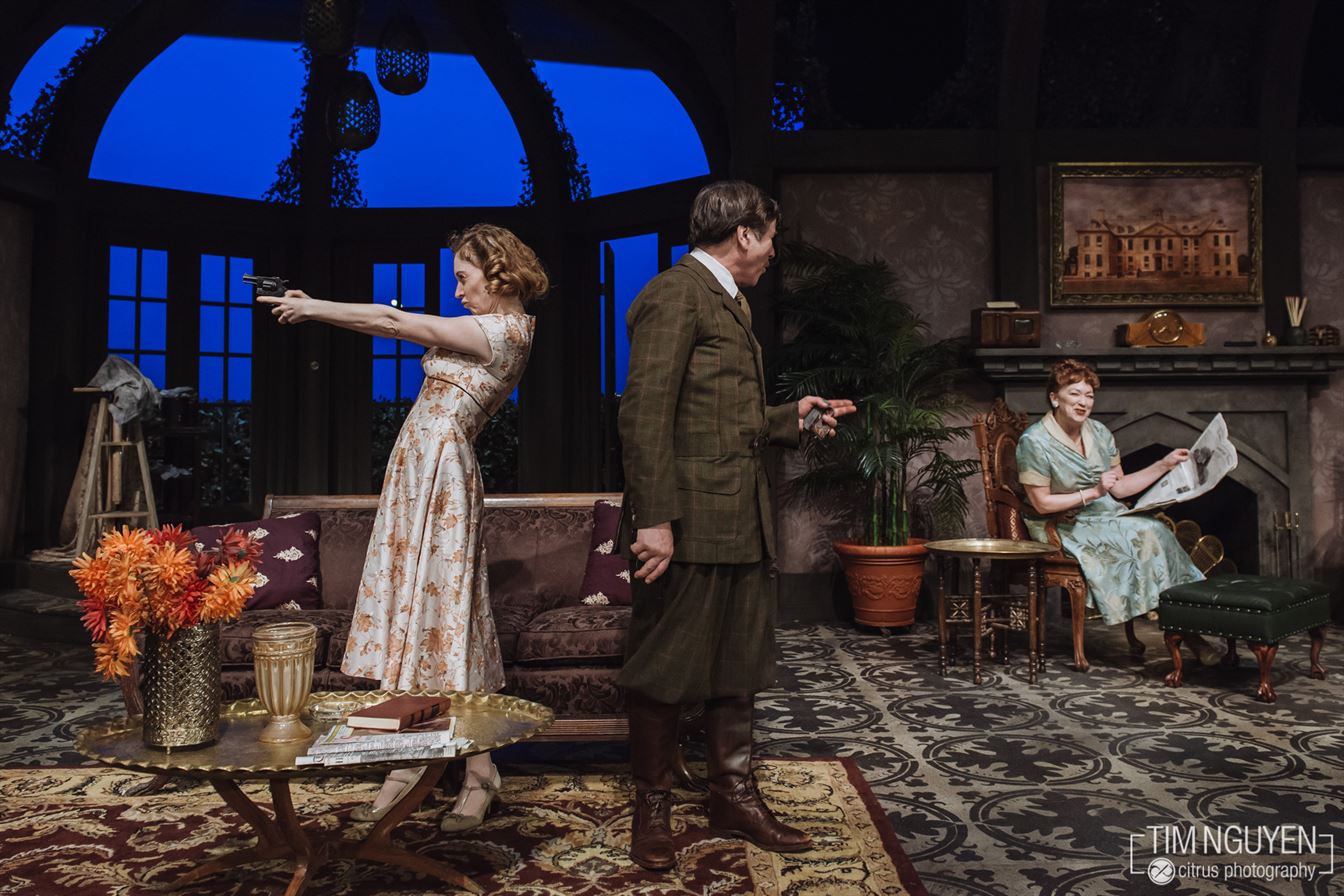 After Vertigo Theatre's successful run of Agatha Christie's The Mousetrap, Artistic Director Craig Hall decided to program Christie's The Hollow as part of the company's 40th anniversary season. The play is a classic whodunit with multiple characters who are complicated and flawed. Their relationships with each other create a great setting for a murder mystery. Vertigo's production has a great flow and a large cast that are strong, both on their own and as a group. There are no plot holes in the narrative and The Hollow refreshingly has women be a crucial part of the story. It is entertaining and engaging theatre.
The play tells of Lucy Angkatell (Kathryn Kerbes) and her husband Sir Henry Ankatell (Duval Lang) have invited some guests over to their estate, The Hollow, to spend the weekend. Henry's cousin Henrietta Ankatell is already there working on a sculpture. The first of the guests to arrive is Midge Harvey (Myla Southward), another cousin of the Ankatells. She and Henrietta discuss Ainswick, the property where they grew up, while gazing at a portrait of it above the fireplace.
Then walks in Edward Angkatell (Tyrell Crews), another cousin, and it becomes quite clear that Midge is in love with him, but he is in love with Henrietta. The last of the guests to arrive are Dr. John Christow (Haysam Kadri) and his seemingly dense wife Gerda Christow (Kira Bradley). Henrietta is having an affair with John and everyone is stirred about when they hear that Veronica Craye (Chantal Perron) has bought the house down the lane, and of course she stops by for a visit.
As it goes with Agatha Christie, a character is murdered and an Inspector comes in to investigate. Grant Linneberg takes on this role and he brings along Kevin Corey as Seargeant Penny for comic relief. Rounding out the large cast are Doug McKeag as Gudgeon the butler and Doris (Lara Smitz) the housemaid, who also both provide some comedy.
Patrick Du Wors designed a lovely set with swooping greenery on the arches of the set of the house that features several entrances and exits. His costume design has Perron in a fabulous dress when she enters in her first scene. Anton de Groot's lighting design acts as the ever changing sky in the background.
The Hollow is entertaining and fun because of its talented cast, ranging from the absent minded (Kerbes) to arrogant & unkind (Kadri). This diversity in characters makes for a compelling play. Agatha Christie's strong storytelling in the hands of director Jan Alexandra Smith makes for a great evening out.
Vertigo Theatre's The Hollow runs until December 11th. More information is available online.
Photo Credit: Tim Nguyen
---