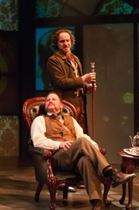 It was when Sir Arthur Conan Doyle wrote The Hound of the Baskervilles, that he found his way back to Sherlock Holmes. Doyle had killed off the detective, 8 years previously to the dismay of his fans. The return of Sherlock Holmes in Baskervilles has inspired many film adaptations and Clive Francis adapted the story for theatre. Vertigo Theatre has featured The Hounds of the Baskerville as the final performance in their season.

The play tells of the famous detective Sherlock Holmes (Haysam Kadri) and his sidekick Doctor Watson (Karl Sine) who are investigating the circumstances around the death of Sir Charles Baskerville and the inheritance of his estate Baskerville Hall. The detective is weary for the safety of Sir Charles Baskerville's heir, Sir Henry Baskerville (Mike Wasko) and sends Watson traveling with him to Baskerville Hall with Sir Henry. It seems that Sir Charles died from a heart attack, but rumour has it that a supernatural hound killed him. Cast members Julie Orton and Paul Welch play a handful of characters that pop up throughout the narrative.
The script of The Hounds of the Baskervilles isn't edge of your seat mystery. The audience doesn't feel real fear or anxiety for the characters on stage, but Craig Hall has brought together impressive theatrical elements to the stage and the production features some outstanding performances. Jamie Nesbitt's projection design is beautiful and works within David Fraser's set design quite well. Nothing is solid in the background, therefore the narrative plays within the projection design and the shadows.
It is a great decision to keep the audience engaged in the storytelling. Kadri and Sine are a great team as Holmes and Watson and their dynamic on stage is fun. Welch is a standout performance as the different characters, all distinct in the way they speak and move around the stage. Orton also displays her talents on stage, moving fluidly between characters.
The Hounds of the Baskervilles makes for quite an enjoyable and well put together production because of the talents on stage and the design of the performance. The story and the mystery that Holmes is investigating isn't quite as compelling.
Vertigo Theatre's The Hounds of the Baskervilles has been held over until June 15th. More information is available online.
Photo: Haysam Kadri and Karl Sine
Credit: Benjamin Laird
---