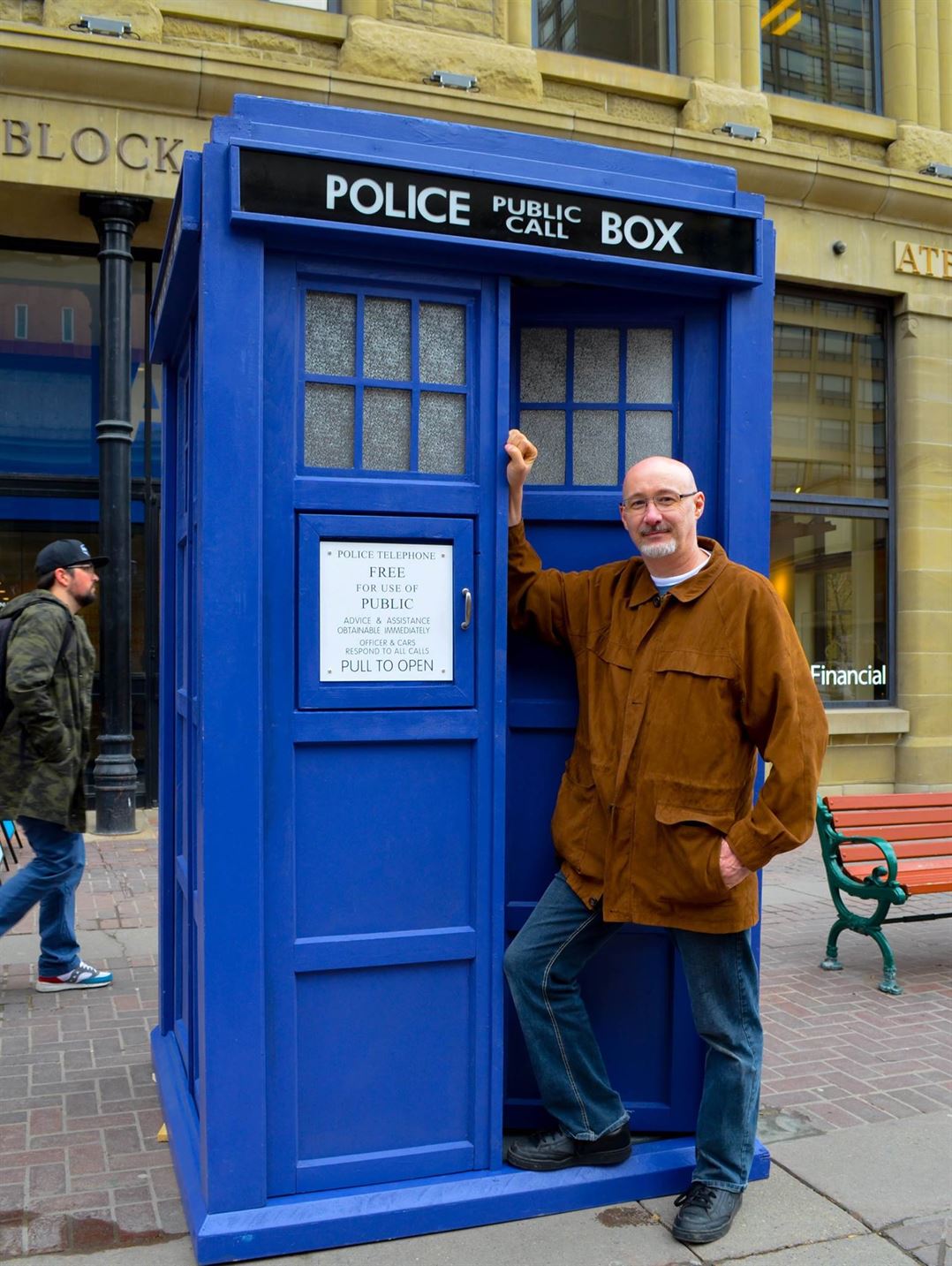 The 5th annual POW! Parade of Wonders was held on Friday, April 28, 2017. Complete with celebrity guests, spectators, creative costumes and a TARDIS!
Edomontonian, Geoff Park and his wife made the trip from Edmonton to Calgary late Thursday evening to arrive and set up their custom, homemade TARDIS for the kickoff to the Calgary Comic and Entertainment Expo.
Geoff's Twitter description says: Troublemaker-lol, Adventurer. Grizzled optimist. Loves challenges and games. oh yes……I built a TARDIS
In between smiling fans taking photos with the TARDIS, I had a brief chance to chat with Geoff and learn a little more about him and his TARDIS.
Is your first time in Calgary with the TARDIS?
Yes! I've never taken it outside the city before. I was just too afraid to carry it. I didn't know what it was like on the roads with rain or snow. I had extra packaging, extra tarps, extra ropes, extra cardboard just to make sure it didn't break or crack. That was my biggest fear, bring it down and it was all broken!
I hauled it in an eight-foot trailer pulled by my car. I was a little worried not only about the trip but what would happen when I got to Calgary. The staff at the Hyatt were amazing and let me store it in the garage for safe-keeping until we were ready to set up the next morning. 
How long does it take to build the TARDIS?
All-in-all, it takes about 30 minutes from start to finish. When I have an extra set of hands to help support, it takes a little bit less of course. 
When did you build the TARDIS?
About four years ago.
Why did you build the TARDIS? 
I did it to keep myself busy one year. I always loved the show and I just wanted to make it into something to do. Everyone that sees it, it reminds them of their hero and they feel good when they approach it. I decided I had to share it after that. I didn't charge for it, I just decided to have group meetings where people could come down to take pictures with it and enjoy the same experience. 
This is the first festival. I've had groups that have advertised for it, some stores in the city say 'can you bring this down to help promote free comic book days next week. I've had comic book stores ask if I could bring it down. I've had people ask to bring it for their wedding. So I've said "sure!" It's just starting to get more traction now. 
What are your plans while in Calgary?
Coming down for the POW! Parade of Wonders was more than a chance to show off the TARDIS. It's probably the only holiday my wife and I will have a chance to take this summer. The people are really friendly and welcoming here. We've really enjoyed wandering up and down Stephen Avenue. The way the buildings are built makes it so unique in look and feel. We just feel like we're in another time. 
Once we're done at the parade, we're going to explore downtown a bit more, check out the Irish pub down the road and then take the C-Train to the Expo.
If you're interested in where the next stop will be for Geoff and his TARDIS, you can follow him on Twitter at @Paddywop or join his Edmonton TARDIS Meetup group.  To see how the magic of the TARDIS comes together, you can watch the construction video on the blog Time and Relative Dimension in Space…on Stephen Avenue! on getdown.ca.
#calgaryexpo had a wonderful time in comic expo Calgary! Thank you. Such wonderful people. TARDIS on Stephen Ave was awesome! pic.twitter.com/QNIucjJ8Uq

— Geoffrey Park (@Paddywop) April 30, 2022
---