Parking and dealing with traffic can have it's challenges at the best of times. With the anticipation of more than 250,000 Calgarians making their way down to the core for Canada 150 celebrations, visitors will need to be a little more easy going than usual. To help, we at Getdown have come up with some options to help you get down and around downtown.
Downtown parking and parkades

Parking with Calgary Parking Authority
The Calgary Parking Authority (CPA) will be on holiday rates during Canada Day. This means FREE on-street parking and complimentary parking in 6 of their parkades (see list below). For parkades and surface lots not listed, holiday rates are listed for each facility when viewing the parking locations map or click here to access surface lots or parkade rates.
CPA Parkades
NOTE: All other parking restrictions are still in effect on holidays. For example, no parking, no stopping and posted time restrictions still apply. Please watch for signage to verify what parking restrictions are in effect for that area.
Parking at The CORE and Holt Renfrew
Free parking is available all day on Canada Day with two on-site parkades providing 600 parking spaces. Be sure to arrive early as these spots will go quickly!
The Holt Renfrew parkade is located beneath Holt Renfrew on 8th Avenue between 4th and 5th Streets SW and is open from 5:30 am – 12:00 am.  The CORE parkade is located on 4th Street SW between 8th and 7th Avenues SW and is open from 5:00 am – 12:00 am (midnight). Click on the image below for more information on parking at The CORE.
Bankers Hall Underground and West Parkades
On Canada Day, Bankers Hall parkades will be offering parking at a $2 rate for 24 hours (6:00 am - 6:00 am).
The entrance for the Underground Parkade is off of 9th Avenue SW between 2nd and 3rd Streets. To gain access to the West Parkade, enter off of 9th Avenue SW or 3rd Street SW. Be sure to review how to gain access from within the Complex beforehand at mybrookfield.ca/bh-parking/.
Save time and money with Calgary Transit
While you may not have a CTrain stop within walking distance to your home, many Calgarians already 'Park and Ride' in to the downtown core. Park at one of the many 'Park and Ride' lots along any of the four CTrain lines and take the train in to the core, you just pay for your transit ticket. Here's a list of Park & Ride Locations in Calgary.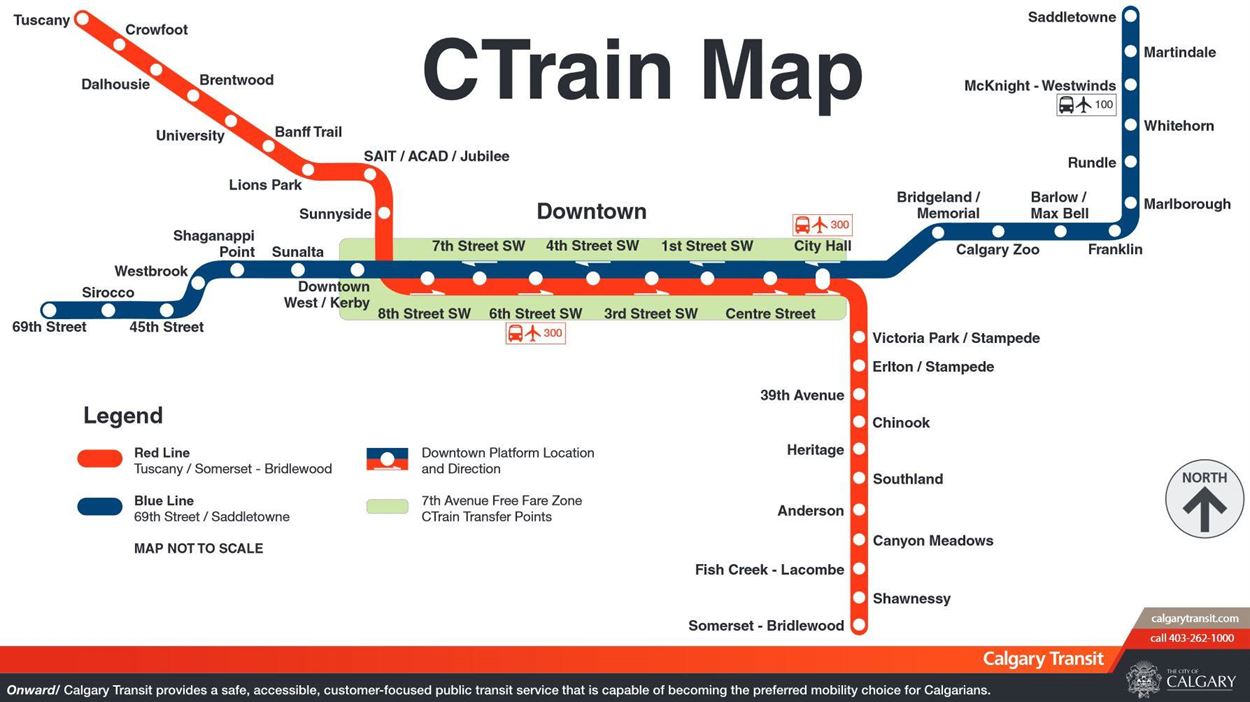 Try parking in the east or west end of downtown and use the Free Fare Zone to get closer to your destination. Along both the Red Line and the Blue Line there are 9 CTrain stations downtown in the 7th Avenue Free Fare Zone, where you can hop on and off at anytime.
If you are new to transit, you can plan ahead with the Calgary Transit Plan a Trip app.
Cycling or walking
Walking and biking downtown has become fairly straightforward with new interactive pathways and bikeways maps offered by the City of Calgary. The app is available for download on both iPhone and Android for free from either Apple or Google app stories. For more information or to print off a map, visit the cycling and walking route maps page.
If you and your friends and family decide to bike downtown, keep in mind there are bicycle-parking racks in a number of areas on and around the Cycle Track Network (which is completely free). Be sure to bring a lock (we recommend a u-lock) to keep your bike secure.
NOTE: There is the potential for pathway closures for both cyclists and pedestrians. Be sure to check for closures to plan your trip by visiting the pathway closures page of City of Calgary. 
You can get more information on Cheap Downtown Calgary parking and try our Downtown Calgary parking tool. If you have your own parking tip, e-mail us at [email protected] and let us know!
---