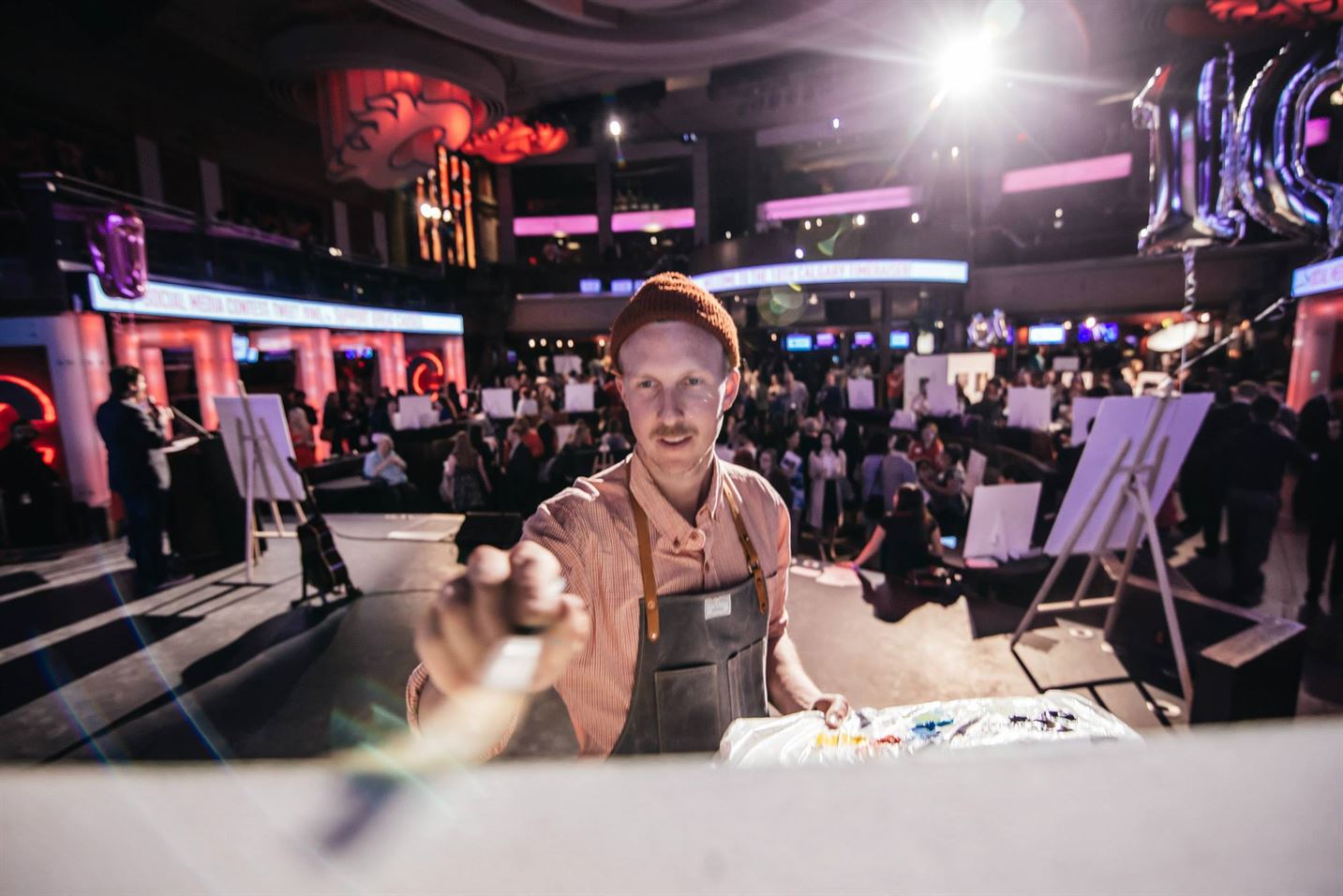 Photographer: Kelly Hofer
Photo of Daniel J. Kirk painting live at Timeraiser. 
Everyone loves a good party, but how about a party for social good? Sound too good to be true? Then, you haven't heard of Timeraiser.
At Timeraiser, party-goers get a fun night of live art, music and great food, all while supporting emerging local artists and nonprofits in the community.
Timeraiser is a party and an art auction.  Attendees bid against each other to win an original piece of art, but instead of bidding dollars, they bid – you guessed it – time! Timeraiser started fourteen years ago with the hopes of bridging several common gaps in the art and volunteer community. Timeraiser parties:
expose up-and-coming artists to new audiences
make artwork more accessible to the next generation of art collectors
connect nonprofits with skilled volunteers.
Since 2003, this win-win-win event has grown annually across the county contributing $1,168,946 to the careers of emerging Canadian artists, and raising 201,265 volunteer hours through winning pledges.
In 2017, Timeraiser is honoured to be one of thirty-eight Canada 150 signature projects. The Timeraiser 150 festivities span from coast to coast with 10 live parties in 10 provinces and a goal of up to 150,000 pledged volunteer hours across the country. With 9 parties under our belt, Calgary is the the GRAND FINALE, and we can't think of a better place to kick-up our heels and celebrate!
Join us on Thursday, September 28 from 7:30 – 10 pm at Arts Commons and party for social good! Sled Island Music and Arts Festival is presenting Astral Swans and Bad Portraits artist Mandy Stobo is painting live. There's food trucks, drinks from Steamwhistle and, rumour has it, a cotton candy machine. Some of the amazing artists being featured include Curtis Van Sorenson, Paula Timm, Cory Nespor and David Dean. Meet with non-profits from the arts, wildlife and animal welfare and access to athletics (the full list can be found here).
Artists are paid for their work, non-profits find skilled volunteers, Calgarians find meaningful volunteer opportunities. Got your ticket yet?
Use the code YYC150 for $5 off at timeraiser.ca/Calgary.
---
Editor's note: This post was written/provided by Charis Birchall to promote Timeraiser 150 Calgary. If you would like to promote your Downtown business or event, please email [email protected]
To get events like these emailed to you each week, sign up for the Downtown Calgary Events Newsletter, and follow us on Twitter and Instagram, and Like us on Facebook!
---