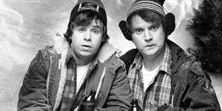 Calgary's oldest theatre, The GRAND, also served as a movie house for 30 years. In celebration of Canada's 150th, Theatre Junction and CSIF (Calgary Society of Independent Filmmakers) are joining forces to pay homage to the past with a new series of all-Canadian films. It kicks off with a screening of Strange Brew on Friday, October 13th, 2017.
"We're excited to be revisiting cinema, a nod to the GRAND's movie house era (1969-1999) and inviting people to experience an art form different than the contemporary theatre we normally showcase. Strange Brew was chosen because it's a Canadian cult classic with Bob and Doug McKenzie mocking Canadian stereotypes in a way that you can't help but laugh at," said Oliver Pennock, Administrative Coordinator at Theatre Junction.
Strange Brew is a film about two brothers who are your typical Canadian stereotypes - they like beer, donuts, hockey and…eh! They drink the rest of their dad's beer and have to do a beer run, but are broke. So they devise a plan to put a baby mouse in a beer bottle and take it to a local brewery demanding compensation in the form of beer. They end up employed at the brewery and find themselves in trouble with the people trying to take over the world…using beer.
"CSIF is extremely excited to be partnering with Theatre Junction for this series. We'll be presenting short CSIF member films before each screening. Bringing the cinematic community and fellow film lovers together is an important part of the CSIF mission, and we believe that the Movies at the GRAND series is a fantastic way to do just that!" said Raeesa Farooqi, CSIF Programming and Communications Director.
Keeping in theme with the film, all attendees are encouraged to dress as 'hosers' - think plaid, winter boots, toques and hockey jerseys.
Doors open at 7 p.m., where food and drinks will be available for purchase - Village Brewery and a concession, including pop, chips, popcorn and chocolate. At 8pm, CSIF will play a short film and the main feature begins at 8:30 p.m. Intermission includes activities and the evening will close with trivia.
Special thanks to all the Movies at the GRAND sponsors for their help in making this event possible: Sturgess Architecture, Village Brewery, Everbrave and ACTRA. Community sponsors include CSIF, calgarymovies.com and Fifth Reel.
Upcoming movies at the GRAND
October 30th: Mystery Scary Movie
December 1st: Holiday Movie – voted through social media
May 14th: Silent film with live band accompaniment
All film screenings are $5. More information at www.theatrejunction.com.
---
Editor's note: This post was written/provided by Aldona Barutowicz to promote Movies at the GRAND. If you would like to promote your Downtown business or event, please email [email protected]
To get events like these emailed to you each week, sign up for the Downtown Calgary Events Newsletter, and follow us on Twitter and Instagram, and Like us on Facebook!
---