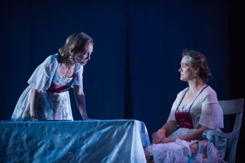 Review written by Jenna Shummoogum, @JennaShummoogum
Virginia Woolf wrote To the Lighthouse in 1927 and focused on the Ramsay family anticipating and looking back on visiting a lighthouse. Alberta Theatre Projects' To The Light' by Evelyne De La Cheneliere, translated by John Murrell is inspired by Woolf's To the Lighthouse. Woolf was the creator of the stream of consciousness narrative device and the play also uses this device. It allows for a dreamlike telling of the story but this device leads to the detriment of the narrative or any semblance of emotional depth. The production is lacking anything that the audience can hold on to, though the cast tries to hold it together, the story doesn't really pull through.
The play explores the relation between Mrs. Ramsay (Elinor Holt) and Lily Briscoe (Julie Orton). Lily is a painter who obsesses over her work and Mrs. Ramsay is a mother of eight and adores each of her children. While visiting the family, Lily struggles with her painting and her creative process.The play is told in refrain and poetry about the lighthouse, about children and about how they are glad no one can read their minds. Also on stage is pianist Bryce Kulak, who provides an accompaniment to the musings on stage. The narrative isn't solid as the story skips around, forwarding and reversing. The women speak of how they would like things to be at times, instead of how they are.
Narda McCarroll set design tries to set the two woman in a dream-like state with sheer sheets hanging from the top of the stage, lit with different shades of colour. Peter Moller's sound design gives the impression that time is a trick, that it isn't linear, much like how the characters are telling the story.
Orton and Holt try to infuse something dynamic into this play where nothing stands still, nothing is concrete. Their efforts are hindered by the script and lack of narrative.
To the Light is a play that is searching for solid ground, but never quite finds it.
Alberta Theatre Projects' To the Light runs until November 4. More information is available online.
---