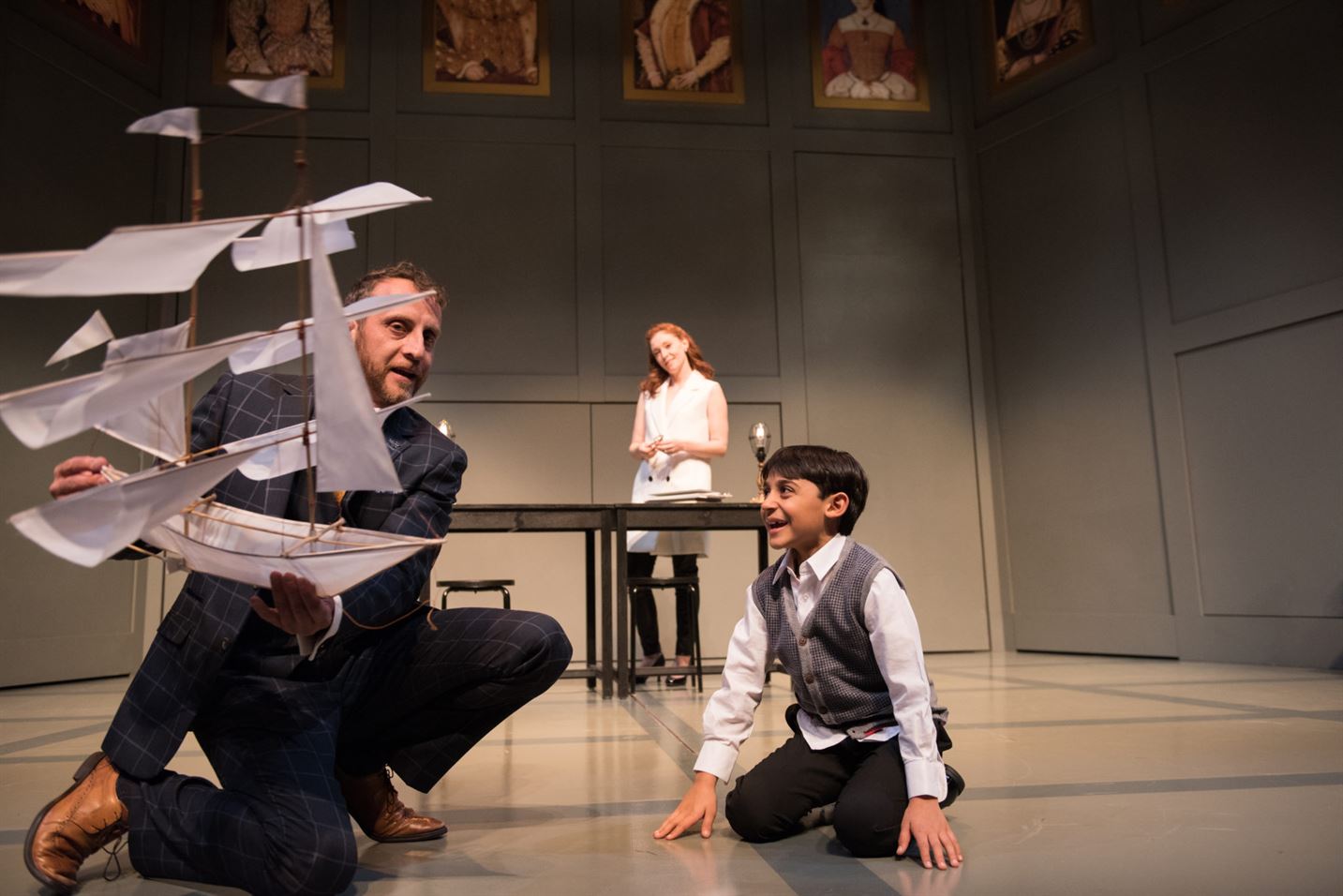 There are several elements of Alberta Theatre Projects' production of Kate Hennig's The Last Wife that are of note, but that which stands out the most is in line with the play's interpretation of the life of King of England Henry VIII and his last wife, Catherine Parr - ATP uses a contemporary casting.
The company chooses to give a nod to diversity in casting, putting Lorne Cardinal, Lucian-River Chauhan and Haysam Kadri on stage. Under the steady direction of Glynis Leyshon, the cast makes the production compelling, dramatic, funny and relevant. The Last Wife leaves us pondering the fact that this is where we were and makes us ask ourselves Are we still there now? Have we made any progress?
The play explores the story of King Henry VIII (Lorne Cardinal), when he decides to marry Catherine Parr (Myla Southward). The widow is actually kindling a romance with Thomas Seymour (Haysam Kadri) but as the King's subject, she does as she is told. Catherine wants to play the role of mother to Henry's children from prior marriages including the young Edward (Lucian-River Chauhan), Mary (Helen Knight) and Elizabeth - Bess - (Emma Houghton). She strives to reconcile Henry with his children and fights to maintain her dignity and grace within the marriage. She is opinionated and Henry respects her making the push and pull in their relationship fascinating.
Hennig's script has its moments of poignancy and levity, especially when it involves Mary as she is both stubborn and bitter (rightfully so) while also being vulnerable and sincere. Knight plays the role with such precision, playing up the humour, especially in her interactions with Bess. The chemistry between Kadri and Southward crackles and Cardinal demonstrates his versatility by showing Henry's power and vulnerability all at the same time. The actors bring such depth to their characters and Leyshon ensures that this shines on stage.
Scott Reid's set design features the traditional portraits of the King and his wives across the top of the stage creating a visual contrast with Hennig's contemporary interpretation. David Fraser's lighting design adds a dramatic flare and his use of vintage string lights are a nice touch, while Chad Blain's sound design also amps up the drama. Heather Moore's costume design stands out with the King and Prince in tuxedos and Catherine in elegant dresses that are all nicely fitted.
The Last Wife is an intimate look at the dance that Catherine Parr has to perform for her King. Please him, but not too much. Spar with him, but don't be too heavy. Give him information, but don't reveal too much. Don't threaten him by being smart or clever because he holds all the power and he can (and will) change the rules. This play has the right mix of conflict, talent and smart writing to make it a powerful production.
This is all history. Right?
Alberta Theatre Projects' The Last Wife runs until September 30. More information is available online.
Photo: From Left to Right: Haysam Kadri, Myla Southward and Lucian-River Chauhan
Credit: Benjamin Laird Arts and Photos
---