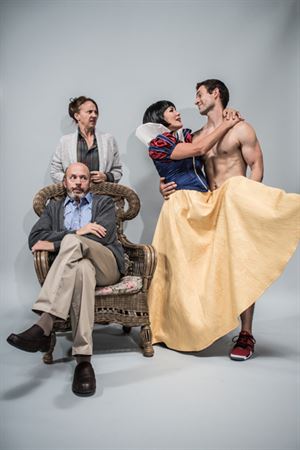 Photo Credit Kenneth Locke
Christopher Durang is an American playwright who is known to produce work that is usually outrageous or absurd. His newest play Vanya and Sonia and Masha and Spike, produced by Alberta Theatre Projects falls within that category. The play uses elements that are inspired by Anton Chekhov, but you don't have to be familiar with the Russian playwright to grasp the comedy of Durang's play.
Vanya and Sonia and Masha and Spike tells of the complicated relationship between siblings, namely Vanya (An incredibly solid Christopher Hunt) and Sonia (Lois Anderson) who was adopted into the family and Masha (Sonja Smits) the famous actress who works to support both Vanya And Sonia, who spent the past decade taking care of their elderly parents. Masha has come to visit the family home and has brought her young can't-keep-his-clothes-on boyfriend Spike (An incredibly ripped Stafford Perry), as she got invited to a costume party nearby and has invited her siblings to go. Throw in the over the top cleaner Cassandra (Nadien Chu) who has epiphanies about the future and Nina (Lara Schmitz) the enthusiastic fan of Masha from next door and you've got the makings of a comedy.
There is quite a bit of absurdity to populate the play, including Sonia throwing cups of coffee on the floor because Vanya said they got cold, then claiming that she did it because she's bipolar. A large portion of the absurdity is put on the shoulders of Cassandra and her 'visions'. Her behaviour gets old and irritating pretty fast. So does Sonia's complaining about how her life is over and how it doesn't matter because she never really lived. This is contrasted with Vania's steadiness. He is sarcastic and logical and balances out the other characters in their foolishness. Durang's commentary through a monologue that Vania recites on how this new generation is disconnected and how people used be more articulate and sincere is the turning point in the play. It is at this point that the narrative isn't all about comedy and actually has something to say.
Hunt is measured and sturdy as Vanya. He carries the burden of articulating the point of the play within his character and he does so with grace. Anderson is a great balance between comical and serious as Sonia and Smits embodies the complexity of Masha very well. Perry doesn't have to stretch much as Spike. His character is written to be over the top and obnoxious. Both Chu and Schmitz handle their characters to the best of their abilities, but their characters are quite flat to begin with.
Catherine Hahn's set design is the family home is quite elaborate, with a fireplace in the corner and a giant bookshelf on the other wall. The window in the backdrop allows Gerald King's lighting design to shine through, depicting the time of day.
Vanya and Sonia and Masha and Spike is a comedy with something to say that really picks up in the second half. Director Glynis Leyshon has her performers shine in the right places and sets the play to the right pace. It may not be side splitting comedy, but Alberta Theatre Projects' kick off play is a smart comedy.
Alberta Theatre Projects' Vanya and Sonia and Masha and Spike runs until October 3rd. More information is available online.
---