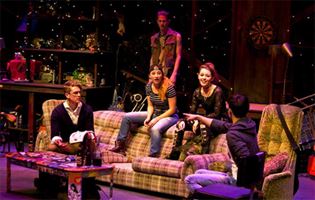 George Bernard Shaw said that youth is wasted on the young. It's often because they don't know how to handle it. This concept is at play in Alberta Theatre Projects' production of The Circle, a new play by Calgarian playwright Geoffrey Simon Brown. Brown has written a play about a group of young people who are just trying to survive. They smoke up, they drink, they party, they try and belong. The play is a focused lens on troubled youth and how their desire to avoid the predicament of their own lives can sometimes end in disaster.
The play tells of a group of friends who are getting together. Ily (Joe Perry) gets a call from an old friend Tyler, who now goes by Mutt (Geoffrey Simon Brown) and Ily invites him to hang out. Amanda (Elisa Benzer), Ily's girlfriend isn't exactly thrilled at knowing this. She has already invited her friend Will (Daniel Fong) and his boyfriend Daniel (Brett Dahl) over. Ily doesn't think it's a big deal because it isn't a party. It's people just coming over to hang out. Oh, and Mutt's girlfriend Kit (Leanne Govier) is coming as well. Thus unfolds an evening of drinking, though everyone but Ily is underage, smoking up and generally hanging out.
The Circle plays with timelines. It cuts to different scenes by having a separator physically drop in front of the set. We then get a peek into the different relationships and the issues at play, like how Mutt just got kicked out of his mom's place and is looking for somewhere to stay for a while. Daniel and Will are still trying to figure out their relationship and their feelings.
The performances are strong and the cast settles into the language quite easily. Brown nails being tough, desperate and awkward as Mutt and Fong stand out as Will. Anton de Groot's sound design fits the production, with rock and rap songs that capture the atmosphere of the play. Sometimes those sequences do go on too long though. Narda McCarroll's set design is intriguing with ropes hanging beyond the set of Ily and Amanda's garage.
This play has language that isn't complex, but is true to life. Every other word is the f word and the group doesn't have the ability to express their feelings and this demonstrates their maturity. They are all just trying to get by. But sometimes their situations and their feelings get in the way. Every scene in The Circle is punctuated by awkward pauses and we're all just waiting for it all to fall apart. When it does, the audience is left unsure if they particularly care about the tragedy. Yes, under all the drugs and violence, these kids are just looking to belong. But that isn't enough for the audience to poignantly feel deep empathy for the characters on stage. Maybe it's their tough veneer, or the way they treat everyone around them, but there is a wall between the audience and the story on stage.
In spite of this, The Circle touches on some important subjects about youth that get left behind. It's a subject worth discussing. And if this play sparks that conversation, then we should definitely applaud that.
Alberta Theatre Projects' The Circle runs until November 7th. More information is available online.
---