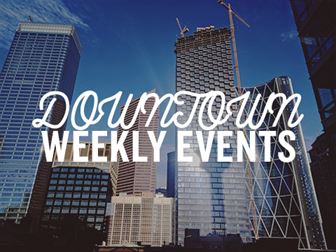 This week The Dudes are celebrating Christmas at the Palace,The Palomino is hosting a queerly festive dinner show, and Lunchbox Theatre is being naughty…but also nice. Keep reading for more!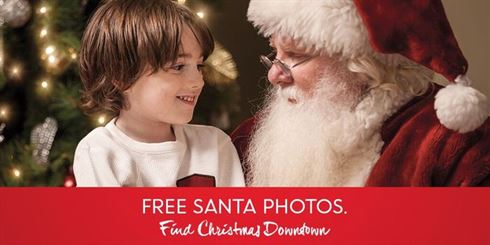 FREE SANTA PHOTOS AT THE CORE!
November 22 - December 23, 2021
Join the CORE this holidays season as we welcome Santa downtown every Thursday - Sunday starting November 22 - December 23!
Santa will be sitting with children on a giant red chair amongst a forest of Christmas Trees on level 2 of the CORE (glass bridge near Holt Renfrew).
Photos with Santa are complimentary and are to be taken with your smartphone so you can easily share them with friends and family! If you post the photo of your child with Santa and use #FindChristmasDowntown your photo will automatically print out at our hashtag printer!
Photos will also be available for download on the CORE's Facebook page every Monday following weekend visits.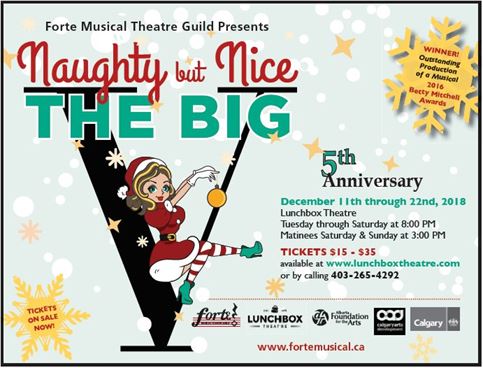 NAUGHTY…BUT NICE! THE BIG V
December 11 - 21, 2018
Five Fabulous Years of saucy holiday tunes calls for a Roman numeral, so Forte is proud to present Naughty… but Nice: The Big V! Come join us for everyone's favourite sweet but risqué holiday celebration. A hit parade of favourites from the past and a smattering of new tunes will remind you why, every year, Naughty… but Nice is on your must-see list.
Winner of three Calgary Critics' Awards and the Betty Mitchell Award for Outstanding Production of a Musical, we look forward to celebrating our Vth Anniversary with you this holiday season!
Recommended For Ages: 15 & Up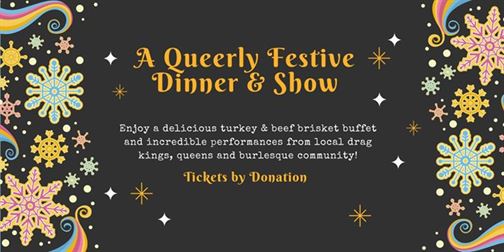 QUEERLY FESTIVE DINNER & SHOW
December 19, 2021

An ALL AGES winter celebration!!
As winter settles itself in, and the holiday season comes into full swing, we understand that it can become an incredibly difficult time for some. Many members of our community find themselves displaced and without family, which is further exacerbated during Christmas.
To combat this, local non profit and charitable organizations have come together to curate a holiday dinner and show hosted by the Palomino Smokehouse, which is BY DONATION. We want to ensure that each and every person within our community has an opportunity to take part, connect with friends, meet new ones and celebrate our diversity!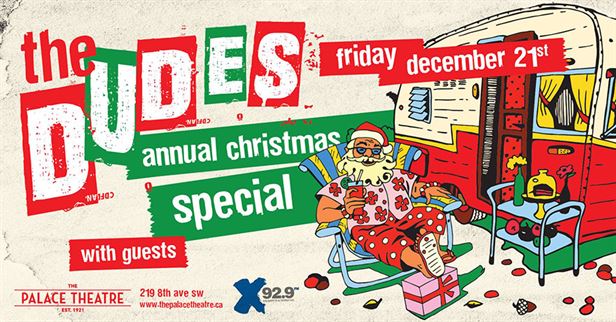 THE DUDES ANNUAL CHRISTMAS SPECIAL
December 21, 2021

Presented by The Palace Theatre & X92.9
This celebration happens once a year. It's festive, amazing and fills the holiday with joy. Family and friends 'tis the season…
The Dudes are legit. They make rock songs that come from the most closely guarded vaults of the emotional banks. They sing about the triumph of good over no good. They trumpet the march of the working class lady. They tell stories of love gained and lost, knife fights, cops and kindness. The dudes want you to see them play live. They would like you to laugh and dance. After the show, they want to give you a high five.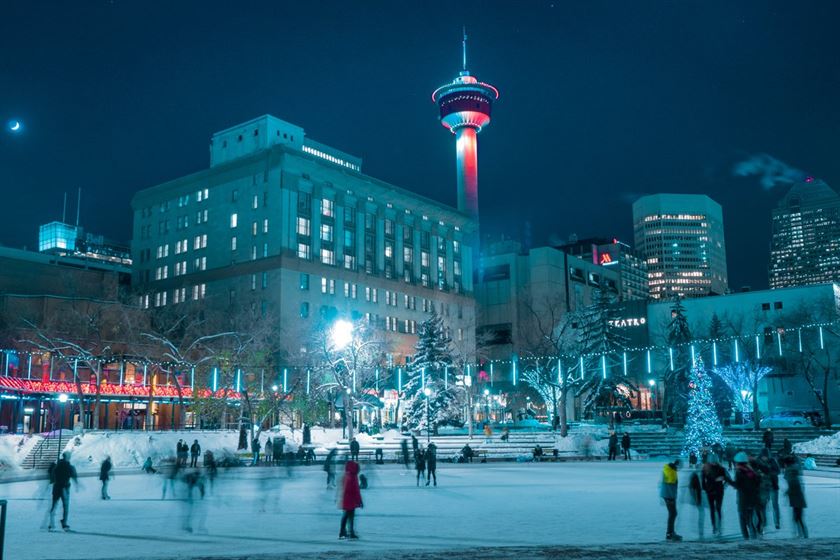 CONTINUING EVENTS
December, 2018
Monday - Saturday (ending December 22)
10:00AM until 8:00PM
Monday - Friday (ending December 21)
10:00AM until 6:00PM
Open mid November to mid March
Hours of operation: 10 a.m. - 9 p.m. daily
Skating is free of charge
Buds Collective is hosting their second annual Northern Reflections urban art gallery through a series of painted windows that uses Augmented Reality (ending December 31)
View more events
If you want to see more events happening this week and the weeks to come, visit our Event Calendar.
Share your event
Have an event happening downtown? We want to hear about it! Either Add Your Event or email us at [email protected]
---