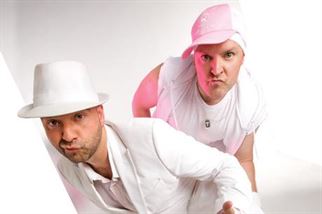 Craddock and Cuckow bring BASH'd: A Gay Rap Opera back to Calgary as part of the High Performance Rodeo (their first run in 2008 sold out) and I'm glad they did.
It was just a typical Wednesday night in the city; worked a bit late, stopped at Murrieta's for a glass of wine and quick bite, and then I was off to the opera.  The gay rap opera!
Maybe it's just me, but a rap opera would have been unusual enough to pique my interest, then you add a couple of white homo's to it and you have BASH'd:  A Gay Rap Opera starring Feminem & T-Bag.
It is fast-paced, brilliantly clever and while both my roommate and I laughed our way through most of it, this "Romeo meets Romeo" love story touches on some very important issues like gay marriage, personal rights and freedoms, and gay bashing.
This star-crossed opera carries a number of strong messages, but the one that spoke the loudest is that love is love.  No matter who you are.  No matter where you are.  No matter what you are.  And everyone deserves the basic human right to feel it without judgment.
BASH'd is a witty, fun, and strangely fascinating peek into life as a gay man and it will definitely entertain you if you have an open mind and a high tolerance for strong language.
Interested?  BASH'd is here as part of the High Performance Rodeo from January 26-29th at the Vertigo Theatre.
Related Posts