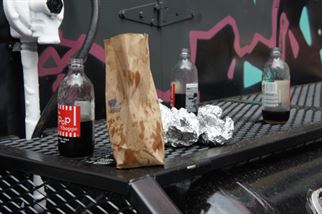 Food trucks have appeared in cities all over the world and now Calgary is in on it too. What did everyone have to say at the launch of the Calgary's Food Truck Pilot Project on Stephen Avenue? Lots. Twitter was buzzing and the hashtags were trending. Here's some of the best moments along with some advice for success and a new way to describe hunger.
Anticipation for the one-day launch was high and as of Thursday morning over 1700 people had RSVP'd for the event on Facebook.
The block filled with people waiting to try burgers, perogies, tacos, fries, pizza, BBQ and gelato.
The Busker Piano from the Cantos Music Centre entertained the crowds in line.
But the most important question is of course - how was the food?
Some of the trucks ran out and some kept going until the end.
So, what did #yyc think of the Calgary Food Truck Pilot Project?
"

Dividing + conquering at #yyctastethetrucks with @kanuck75. About to have truffled fries in the taco line up I love this city!
"

Hey @CHARCUT, your @AlleyBurger is too popular!! You might need an additional truck. …or 6. http://t.co/AvbxifM
"

Thankyou #yyccc for allowing #yycfoodtrucks to exist!! Fun food, fun idea.
"

With crowds this big, I think u can call the #yycfoodtrucks experiment a success #tastethetrucks #yyc
"

Success! Delicious success! Thanks @AlleyBurger I was velociraptor hungry #yyctastethetrucks http://t.co/DFgrzdP
Related Posts
---