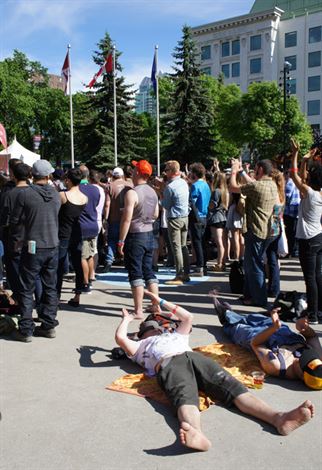 The end of summer is fast approaching and that's why I thought SUMMER is the perfect topic for getdown.ca's first photo essay.
Some of the signs of summer downtown are:
the full patios at lunch every sunny day
the seat on the C-Train that you never usually see
the sounds of happy kids at the Eau Claire wading pools
the tourist standing uncertainly on a street corner (and hopefully being helped by a HOST)
and the crowds that flock to the festivals every weekend
What do you see downtown that reminds you of summer?
You're invited to submit your photos to our "Summer in Downtown Calgary Photo Essay" by 8:00am on Monday, August 29, 2021. If your photo is selected we'll post it in the photo essay on this blog, but you'll retain all rights to your photo(s) and be given credit.
To submit photos, email them using the subject "Summer in Downtown Calgary Photo Essay" to sophyk at downtowncalgary dot com with the:
photo
credit information (and a link if you like)
a short description of the photo
why you think it fits the topic
Participants are welcome to submit more than one photo.
Don't have a photo? Feel free to share your ideas in the comments section below.
---