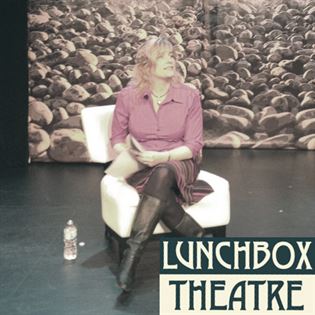 Lunchbox Theatre's new season will feature outstanding work from Calgarian playwrights as well as compelling work from across the world.
Kicking off the season is The Bob Shivery Show, a world premiere comedy by David Sealy, directed by Mike Kennard. It tells of Bob's magical and dangerous journey to win the girl of his dreams back from an Albertan oil man.
Next, continuing the theme of love, is Second Chance, First Love, a world premiere comedy Caroline Russell-King, directed by Gail Hanrahan. A tale of two former lovers who are reunited years after their affair. They revisit the heart of their romance.
November will give the world premiere of the 'historical' drama Aviatrix: An Unreal Story of Amelia Earhart. The play is written by Matthew Heiti and directed by Lunchbox's Pamela Halstead. This play retraces Earhart's final journey and imagines what might have become of this heroine of the skies
The Christmas show this year is Oh! Christmas Tree, a world premiere comedy by Conni Massing, directed by Glenda Stirling. The story of Lucy and Algar who are madly in love and who are planning their wedding when they realize that their holiday traditions (or lack thereof) may be a deal breaker. The cast includes fittingly Lindsay Burns and Grant Linneberg.
This blogger is excited that Lunchbox Theatre will continue its participation in the High Performance Rodeo, and January's festival will include Blanche: The Bittersweet Life of a Wild Prairie Dame, written by Calgary's own Onalea Gilbertson, directed by Rachel Avery. This piece played to critical acclaim in New York City, being named one of the Top 20 Shows of 2011 in the Huffington Post. This work is a collision of history, music and theatre.
Next is Neil Fleming and Glenda Sterling's He Said, She Said, directed by Stacie Harrison. It's an acute and hysterical examination of the thoughts of one couple as they navigate the complexities of romance in the modern world. Glenda Sterling is the creator of Lunchbox's Shopaholic protagonist Abby, so this production should be a riot.
Scarlet Woman, a Film Noir Mystery by Matthew Wells will feature direction by Mark Bellamy, Vertigo's former artistic director. It features one femme fatale. Two actresses. Twelve characters. And more dead bodies than the last scene of Hamlet.
Along the theme of musicals and matrimony, April will feature If I weren't with you, a world premiere musical by Joe Slabe, directed by David Leyson. The musical is a  romp through one couple's imaginings of the magnificent lives they would be leading if only that pesky matrimonial partner they currently have, was not holding them back.
Last, but certainly not least is a play by Louis B Hobson, theatre critic of the Calgary Sun, entitled Almost A Love Story, directed by Pamela Halstead. Hobson sent in the script to Halstead a while back and she didn't inform him that it would be part of the season until a week ago. The play tells of David, who is survived by his loving wife and adoring son … and by his lover, Callum. David's son strives to find out who his father really was and what this means to his own identity and his understanding of love and family.
Another announcement of note was that playwright, director and choreographer, Glenda Stirling, is joining the Lunchbox team as Associate Artistic Director.
Looks like we're in for a fascinating season. Keep up to date with the GetDown blog with previews and reviews.
---