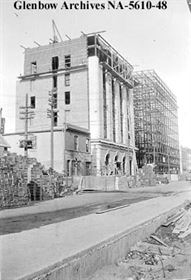 This week's Throwback Thursday photograph comes courtesy of the Collection of the Glenbow Museum Archives and it's of the Lancaster Building located at 304 - 8 Avenue SW taken in 1913.
The Lancaster Building was constructed between 1912 and 1918.  Designed by architect James Teague of Victoria, British Columbia, the building incorporates the Edwardian style of architecture.
Calgary's first 10-storey structure downtown, this building was named after the House of Lancaster, one of the sides in the British War of the Roses as the subject of history was an interest to the building's original owner, J.S. Mackie.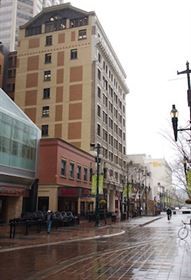 Rumoured to be haunted, at various times this location housed the Grain Exchange, the offices of Prime Minister R.B. Bennett, an Eaton's Store and a pioneer radio station.  In 1978, extensive interior and exterior renovations were carried out and in 1980, the Heritage Foundation of Canada awarded the building the National Award of Honour in part due to the adaptive re-use and renovation of the building.
Today, the building houses many organizations, including the Historical Society of Alberta and the Calgary Downtown Association, more commonly known as Downtown Calgary, the proprietor of this blog.
That's it for this week's Throwback Thursday. Tune in next week and every week in 2012 for more glimpses into the past of Downtown Calgary.
Do you have any photos of Downtown Calgary from the past that you'd like to share with us?  If so, send us an e-mail at [email protected] and it may appear in our weekly segment!
---