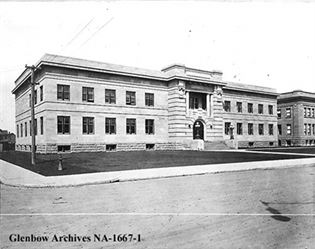 In honour of Calgary Law Day this Saturday, April 21, this week's Throwback Thursday photograph comes courtesy of the Collection of the Glenbow Museum Archives, and it's of the Calgary Courthouse located at 530 - 7 Avenue SW taken in 1915.
One of the last buildings in Calgary to use sandstone, this building was the second courthouse built in Calgary by the provincial government (the first was built by the federal government in 1886) and is the largest surviving courthouse from Alberta's first decade as a province.  Construction began in 1912 and was completed in 1914.
Incorporating the Neocalssical Revival style, architect Allan M. Jeffers (also responsible for designing the Legislature Building in Edmonton) created the initial designs, and Richard P. Blakey made minor modifications to the interior layout and most of the exterior facade.  Between 1964-1975, the Courthouse was the home of the Glenbow-Alberta Institute and Museum, and from 1986 to 2001 it housed the Provincial Court of Appeal.  The Court of Appeal has since moved to the Transcanada Pipelines Tower and most judicial duties are now carried out at the newly built Calgary Courts Centre.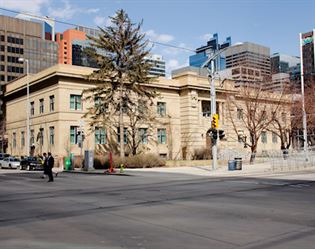 2012 is the 30th anniversary of the Canadian Bar Association, and in cooperation and with funding from the Alberta Law Foundation and the Law Society of Alberta will be organizing activities throughout the province to celebrate Law Day.
Calgary Law Day takes place this Saturday, April 21 at the Calgary Courts Centre at 601 - 5 Street SW from 9 a.m. to 3 p.m.  Featuring an open house complete with tours through court rooms, holding cells and the Law Library, as well as mock trials that you can observe and partake in (plus other activities too), this is an excellent hands-on opportunity to learn about how the judicial system works without being forced to be processed through the system yourself (if you catch my drift).
That's it for this week's Throwback Thursday. Tune in next week and every week in 2012 for more glimpses into the past of Downtown Calgary.
Do you have any photos of Downtown Calgary from the past that you'd like to share with us?  If so, send us an e-mail at [email protected] and it may appear in our weekly segment!
---