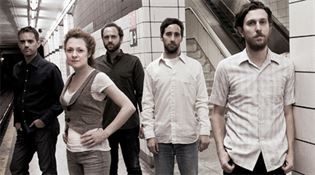 When Great Lake Swimmers bring their swooningly gorgeous brand of indie folk to town, as they did on May 7, nobody waits for two hours after eating before diving into the water.  The number of people who are willing to give up a gloriously mild May evening to squash into a wooden pew for a few hours is impressive.  Even more so when you consider that those who actually scored a pew were the lucky ones who got there early.
Opening the evening was Cold Specks, a 23-year-old from Etobicoke, who brought a spare, somewhat raw, rendition of her signature doom soul to the house.  Her set was a little devoid of banter, but it should prove interesting to see how her powerful voice and a gospel sensibility translate to a completely different setting, when she makes an appearance at the Calgary Folk Music Festival this summer.  One suspects she would give a powerful Sunday morning workshop.
Great Lake Swimmers, once a vehicle for Tony Dekker's songwriting chops and achingly beautiful voice, have morphed over the years from a collective of musicians into a bona fide band.  With the recent addition of violinist Miranda Mulholland and upright bassist Bret Higgins, Great Lake Swimmers have a  newfound depth of sound in their live shows.  Lugging a stand-up bass around from city to city has got to be a gigantic pain, but it definitely adds a richness to the music, not to mention some pretty impressive visuals.
There's a tendency for audiences in a church venue to maintain a respectful silence during a performance, and when that is combined with the natural acoustics of those soaring ceilings, you don't miss a note.  Drawing heavily from their new release New Wild Everywhere, Great Lake Swimmers filled that sacred space with 90 minutes of rich, warm melodies.  They didn't indulge in a great deal of chatter, but when you've got music from five critically acclaimed albums to share, it doesn't leave you with a lot of time for banter.
You don't see as many obligatory standing ovations at concerts anymore these days.  Thankfully that trend seems to have burned itself out.  So when the audience at Central United Church rose to applaud Great Lake Swimmers, it was a heartfelt tribute.  When Great Lake Swimmers then eased into a poignant cover of Gram Parson's A Song for You to begin the ensuing encore, the entire congregation swayed collectively in their pews.  It was a fitting testament to the enduring power of music and the perfect way to end a great night of song.
---