When I first saw The Bad Girls Club YYC perform a couple of year back, I was instantly enthralled and not just impressed by their performance, energy and vision - but also by their style!
Each member is unique, yet they collectively work to bring forth performances that you won't soon forget. Their following has grown immensely over the years, and as they catch a bit of a breather after their Out of the Closet 2016 Opulence Ball, they are now getting ready to perform at Theatre Junction's La Nuit Sauvage, where you can expect more of their signature styles, as they integrate dance, music and visual media to create works that challenge performance norms, showcase diversity and innovation, while encouraging community engagement within arts and culture.
Instead of my typical street view, I opted to photograph Tony, Giang, Sonja, Sabrina and Sarah in Theatre Junction's Vintage Room, which like The Bad Girls Club YYC, has an aesthetic that I was excited to capture as well.
Each member brought their A game - attitude, style and grace - only making me even more excited to watch as they keep taking Calgary by storm!
http://www.thebadgirlsclubyyc.com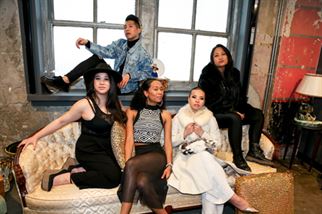 How would you describe your personal style? 
Tony: A mix of sport and street wear, with touches of print, color, and black of course.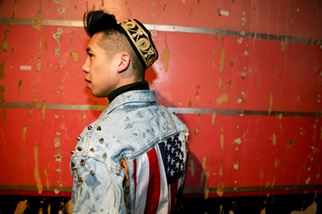 Giang: All black, cleavage out, and large hoop earrings…sometimes a touch of dark lipstick.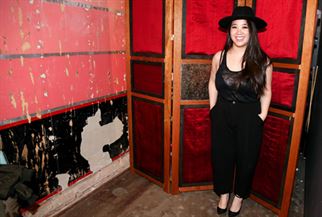 Sonja: Femme Laidback Urban Street Tomboy for everyday. Femme Sexy Bawss on special occasions.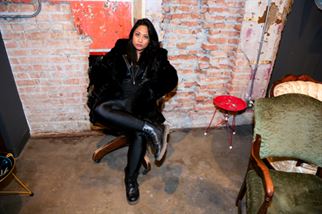 Sabrina: Active Afro Goth chic!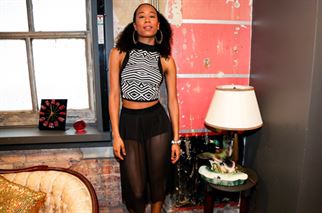 Sarah: Minimal and utilitarian.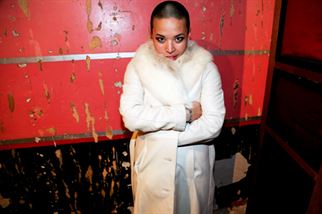 What are some of your influences when it comes to fashion? 
Tony: Some of the influences and individuals I look up to when it comes to fashion are Pelayo Diaz (editor of Katelovesme.net), Jonte Moaning, Miguel Zarate, and styles emerging from Hip Hop culture and streetwear.
Giang: I'm not too sure where my influences come from when it comes to fashion. But I love following styles that have an S&M and bondage feel. My inspiration for all black comes from Japanese boys pumping around in the Harajuku district of Tokyo (those boys know how to dress in all black) as well as American Horror Story: Coven…Jessica Lange SLAYS the all black and red lipstick look!
Sabrina: Afrocentric prints as well as dance and Soca music culture.
Sarah: Alexander Wang and Bianca Jagger.
What are some of your favorite trends right now? 
Tony: Sportswear/athleisure/whatever you want to call it and the humble baseball cap.
Sabrina: In beauty: two tone and matte coloured lips. In fashion: black.
Sarah: Sport chic and Minimalism
What fashion advice would you give to others? 
Tony: Don't forget to cut the strings to release the vent(s) on your new suit!
Giang: Dress whatever represents you and makes you feel good about yourself. Honestly, don't care what other people say, just impress yourself!
Sabrina: If it's different try it, if you like it, do it!
Sarah: Have statement pieces in your closet.
Tell us more about the projects and work that you're involved with. 
Tony: The Bad Girls Club YYC since 2013 have been providing an untapped outlet for creative expression to its LGBTQ population. Offering diverse demographics a point of access for sharing, learning and appreciating LGBTQ culture through the medium of Vogue. As mentioned, since 2013 we have hosted four "Out of the Closet" Balls, with over 300 attendees, performers, dancers from all over Canada, travelling to Calgary each year for this event. The goal of these events is not only to promote the culture and practice of Voguing, but also to provide a safe space and environment to be who ever you want, to dress however you want, and to be accepted for who you are. All while walking and competing to snatch the trophy for the win!
I am also happy to say that we are one of two cities in Canada that has a Vogue scene and community, and also helping to put Canada on the map when it comes to Vogue culture and dance!
Giang: Well I've recently decided to leave Calgary for the time being and spend an extended amount of time in California. So currently, I have no upcoming projects planned. I will have some involvement with the upcoming YYC's Block Party taking place at the end of June.
Sonja: Tony asked me to be the resident DJ of The Bad Girls Club YYC so I help out with playing the right music for our vogue balls and other events. I also DJ casually for other events around Calgary. Dance battles are my fav because I love feeding off that vibe from other dancers. From hip-hop to house I can't seem to stick to just one genre of music.
What are some of your future aspirations?  
Tony: Some of my future aspirations are to see the work produced by my amazing Bad Girls grow in size and caliber! To keep pushing our work and seeing the community grow with us. We are also excited to see Calgary be noticed and recognized for not only offering this opportunity, but doing it right and respecting the culture and dance originating out of New York City.
Plus also make sure that Calgarians are Voguing and not being "Vague!"
Giang: My future aspirations include creating/pushing events and projects that will allow various artists of different mediums to showcase their work while pushing people out of their comfort zones.
Sonja: A few years down the road after I gain more experience, I aspire to teach other girls how to DJ. I know how intimidating it is as a female to be in a male dominated industry and I just want to inspire others so that they too can be just as dope as their male counter parts.
Sarah: I put the project of a practice spot for Breakers on the back burner. I'm focused more on yoga, fine art and design right now. I'm currently working on a 6'x3′ panel board of Kendrick Lamar.
How does your work influence your personal style?
Tony: Within Vogue culture fashion is an important aspect of this art form. If your look or effect is not up to par or meet the judges' criteria, be prepared to get "chop!" Therefore, I find costume pieces tend to trickle into my day-to-day wear! I may stick out from time to time, but who doesn't like the attention.
Giang: For the most part, the majority of my work and projects encourages people to have individuality and to creatively express themselves however they want to be portrayed. That in turn influences my personal style as it has allowed me to accept myself and to be proud of my assets!
Sonja: I'm such a tomboy that I just want to be comfortable when I play out, but when it comes to Bad Girls Club events, I like bringing out more of the femme in me. Whatever vibe I'm trying to go for depending on the event I'll try to bring that.
Sabrina: Since I dance for a living it's all about how comfortably can I move in what I'm wearing.
Sarah: Whatever I wear matches the function. Additionally, I have to be able to move in what I wear. If you can't move, gracefully and comfortably you really need to change.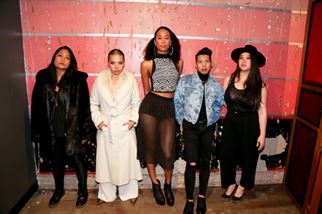 You're going to be performing at La Nuit Sauvage on March 12th - why is it important for you to be a part of these types of events?
Tony: It's important to be apart of these types of events to help build and support our growing arts fabric in Calgary. Especially when it takes a ton of courage, guts and work to curate and produce events and shows, like Theatre Junction GRAND that is cutting edge, out of the box and even a bit extreme.
Sarah: To be part of these events with the Bad Girls holds true to our mission to educate and make available Vogue culture to the greater public of YYC.
Anything specific you'd like to see in our city in the future?
Tony: To see more collaboration and connections between various industries. To see how important the world of art is to all facets of life and seeing more opportunities for individuals or small collective of people to create add to our growing arts and culture scene in Calgary.
Giang: I would like to see our city as a whole become more opened minded and to creatively push ourselves. Embrace who you are, laugh at yourself, and put yourself on a platform to be judged (whether it's positive or negative)…you will learn what YOU love about yourself!
Sonja: I would be nice to see more venues cater to more variety of music styles not just the typical top 40. I'm always hearing how good clubbing nightlife was back in the day when you could club hop back to back to the next. I also find there's a lack of lgbtq venues in Calgary. Hopefully that will improve in the future.
Sarah: More collaboration between art, engineering and science. Beakerhead is once a year but Calgary has greater creative potential before it. It's just about creating connections, doing away with excuses and executing ideas. Make the most of the recession really.
This slideshow requires JavaScript.
---