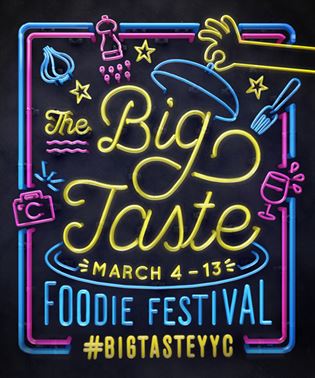 We're in countdown mode to Calgary's biggest annual foodie event. For ten days (March 4-13, 2016) the city's best restaurants are opening their doors with specially priced set menus. Whether you name Teatro and The River Cafe as a favourite, or you prefer charbar and Black Pig Bistro, or a foodie adventurer and love the Korean flavours at Anju, there is a menu to suit every taste.
How it works:
More than 90 restaurants are offering set lunch and dinner menus over the ten days. Have a browse and preview the menus before you book your seat.
With so many restaurants to choose from, I've handpicked my festival highlights. Happy eating!
Lunch - 3 courses ($25 per person)
Anju  - Spicy, sweet Korean goodness in every bite at Anju on 17th Avenue.  Their festival lunch includes crispy prawn dumplings and spicy tuna hand cone, as well as marinated hanger steak or grilled salmon.
Divino - A downtown Stephen Avenue favourite. They're offering a vegetarian meal, with mushroom risotto.
Avec Bistro  - Be a Francophile for lunch. Their Big Taste sees a choice of two dishes on each of the three courses, including a goat cheese tart or moules & frites
Posto Pizzeria and Bar - Easiest free parking ever, and plates where each ingredient is respected. Fresh salad, made to order pizza and a sweet, perfetto!
Wurst - Head to Mission and enjoy maple glazed pork belly, need I say more?
Gourmet Dinner - 5 courses ($65pp)
Whitehall- Pure passion in every dish; although I'm biased because I'm deeply in love with Whitehall (my review). When we dine there, Chef Neil McCue turns out food that is simply extraordinary. His five course gourmand dinner includes chicken parfait, mullet, and a beer braised pork cheek.
Black Pig Bistro - A quiet restaurant in Bridgeland that has clear Mediterranean influences, but makes it more modern.  Their tasting menu is one of Calgary's best kept secrets.
Q Haute - They work hard to impress and their Big Taste menu includes beef cheek terrine, sous vide trout, and aromatic brine duck breast.
Teatro - Fine dining without being stuffy.  Teatro is a restaurant where you go for special occasions, and their five-course festival menu for $65pp is reason enough. Consider their duck confit, poached ling cod and finish with a chocolate mousse cake or vanilla panna cotta.
The River Cafe - Most romantic restaurant in Calgary is a table by the crackling fire, with Prince's Island Park as your backdrop.  Linger and enjoy with a menu that includes Berkshire pork, wood grilled tuna, and black current custard.
Model Milk- When your restaurant hits the best new restaurant list in EnRoute magazine, people notice.  Always innovative, always delicious, 17th Avenue Model Milk and Pigeonhole are notably making a mark here in Calgary. With their Signature Event sold out, you can still book a seat at the same venue, their pop-up PDR (private dining room). The menu will have an Asian twist, created by Model Milk Executive Chef Eric Hendry who spent time in Hong Kong.
---
Editor's Note: this has been a guest blog post about The Big Taste dining festival by freelance blogger Elizabeth Middleton.

Elizabeth Middleton is a Calgary based blogger for thiscalgarylife.com and writer on luxury living with a degree in Political Science from Rutgers University. Adopted from Vietnam, she grew up near Baltimore and has lived in Italy, West Africa, Manhattan, Australia, and now Canada. She currently lives in Mount Royal with her Australian husband, 8 year-old daughter, and British Bulldog named Princess.
---