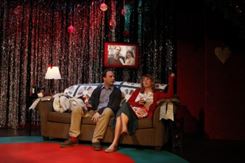 The holidays can be a stressful time of year. It's enough to fit everything in, family and events, along with decorating and baking. The couple in Lunchbox Theatre's Oh! Christmas Tree is struggling to get through their first Christmas as a couple. The main problem is that they deal with the holiday in very different ways. And this makes for one funny tale of surviving the first Christmas together.
The play tells of Lucy (Kira Bradley) and Algar (Cameron Ascroft) who are engaged to be married and going through a marriage course through their church. Lucy is a Christmas enthusiast, with all the trimmings, the decorations, baking and caroling. Algar is definitely the opposite. He hates Christmas and had managed to withhold this fact from Lucy. A couple weeks before Christmas they run into a couple snags about the holidays. They argue about how they are going to decorate and what events they are going to go to. We are able to see Lucy and Algar comically struggle through the storm that is Christmas.
Of note is Deitra Kalyn's costuming, putting Lucy in over the top outfits, illustrating her obsession with the holiday. The 'costume' that she makes for Algar is really great. Terry Gunvordahl's set and lighting design are additive to the contrast in the attitude towards Christmas exhibited by the couple. When Lucy decorates their house, her decorations are over the top, to say the least. The play is also backed by solid performances by Bradley and Ascroft.
Every aspect of Oh! Christmas Tree illustrates how Lucy and Algar are on opposite sides of the celebrating the holiday spectrum. It makes for laughter, as Algar's sarcastic retorts are really amusing, 'everyone is miserable celebrating the birth of Christ' and 'I love Christmas trees! that's why I loathe to cut them down.' It is a funny, simple story that misses the chance at really examining the meaning of compromise within the relationship. It explores the conflict nicely, and thankfully doesn't cut to a happy ending without denoument, but doesn't examine deeply the issues presented on stage. But it's a fun holiday story.
Oh! Christmas Tree runs until December 22nd. More information and tickets are available online.
(Three stars and a half out of five)
Photo Credit: Aaron Bernakevitch
---