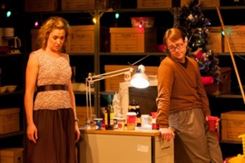 Working late of Christmas Eve. For most people, this is that last thing they want to do. But for the characters in The After Party, a new play at Lunchbox Theatre, they planned to work late on Christmas Eve. Kevin (Scott McAdam) is in late to fix the computers and Sherry (Trishia Woodley) is in to clean after the office party.

The first thing to notice about the set of The After Party, designed by Terry Gunvordahl is that the employees of the company partied hard. Bottles of beer are strewed everywhere, with napkins and bits of food on the floor and a red bra in the Christmas tree. Amongst the complete mess, sits five computers that have an ancient Windows screen saver playing on the monitor. Gunvordahl has definitely depicted a warehouse office and the mess that it sits in. The lighting design, also by Gunvordahl has desk lights and Christmas lights, that enhances the space when the play takes a turn into softer things.
Sherry enters first, in a green coat and boots. She rushes around, hiding a Christmas present and pulling out pieces up paper and one finger types it into one of the computers. She very clearly know that Kevin is coming, as she is dressed up in a skirt and fancy blouse, complete with gold ballet flats. She doesn't look like she's here to clean. Thus unfolds a story of two pretty awkward individuals who very clearly are into each other, but are not really sure when to divulge that detail.
It leads to the audience getting to know both characters, who they are and what they keep in their closet. Kevin and Sherry are very human, completely flawed and looking for love. There are a couple things that don't really add up in the narrative but you're willing to let them go for the sake of the story. Sometimes it's nice to just watch a couple find each other.
McAdam makes this really easy. He fills out the geeky and loveable Kevin quite well and his depiction of karaoke done badly is really quite funny. Woodley's performance is weak, she says her lines to say them, as opposed to seeming to interact with McAdam. Her emotion is depicted in her face but not in her words. Her delivery is like she's making announcements and it detracts from the play overall.
The After Party is a feel good romantic comedy with some well developed characters, but you always know where the story is going.
The After Party runs at Lunchbox Theatre until December 21st. More information and tickets are available online.
---