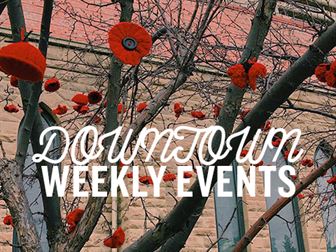 The movies are going to be busy this week with November Doc Soup and The Calgary European Film Festival filling up the cinemas. More of a theatre fan? Head over to Vertigo to watch the premier of Dracula: the Bloody Truth.
CALGARY EUROPEAN FILM FESTIVAL
November 3 - November 11, 2021
The Calgary European Film Festival invites movie lovers to the best of European cinema! The festival is the primary event organized by not-for-profit multicultural organization, the European Cultural Society of Calgary (ECSC). CEFF is in its seventh edition this year, with more presenting partners than ever. CEFF is made possible through the efforts of a group of enthusiastic people, and is now sponsored by 19 European societies and a cultural program through the City of Calgary.
The festival has grown significantly, now running for nine days from November 3 - 11, 2018. Since inception in 2012, its became one of Calgary's most popular events in November. All productions have been nominated for, or have won, international awards. The movies are screened in their respective languages with English subtitles. Films are presented at The Globe Cinema theaters in downtown Calgary. Follow us on social media for updates and information on European movies!
DOC SOUP: THE PRICE OF EVRYTHING
November 7, 2021
Doc Soup Calgary is a monthly feature-length documentary series presented in partnership with the Calgary International Film Festival and Hot Docs.
Basquiat paintings regularly fetch tens of millions of dollars, and the recent sale of a little-known Da Vinci topped $450 million—but what forces are driving the white-hot art market? Who assigns and who pays these astronomical sums? What currency adequately measures art's value? THE PRICE OF EVERYTHING leads us into a rarefied labyrinth of galleries, studios, and auction houses to wrestle with these questions and explore what society loses and gains when art becomes a rich person's commodity.
With unprecedented access to in-demand artists like Jeff Koons, Gerhard Richter, and Njideka Akunyili Crosby, and to prominent collectors and dealers, Academy Award nominee Nathaniel Kahn coaxes out the dynamics at play in pricing the priceless. Intimate interviews with a mega-collector reveal a surprising mix of altruism and business acumen as he determines the fate of his collection. Candid moments with '60s art star Larry Poons probe why he fell out of fashion while his contemporaries' cultural and monetary stock went sky-high. Rather than prescribe answers, Kahn's juicy systemic portrait teases out tensions, holding a fun-house mirror to our feverish times.
CHEF TO BE
November 8, 2021
Welcome to Chef To Be, Calgary's most thrilling blackbox cooking competition where the head chefs of six well known
Calgary restaurants team up with their ambitious pupils to compete and raise money for a $5,000 SAIT Culinary Scholarship.
The blackbox competition means that students and their associated head chefs will get six specifically chosen ingredients to prepare for an audience of 130 with no prior preparation.
There are other fundraisers, other cooking competitions and the Food Network, but Calgary's Chef To Be competition is unique in its delivery and message. We want more for you and more for our food industry. With only four hours to cook, the head chefs battle for respect, while SAIT Culinary students compete for the glory of being named Calgary's ultimate Chef To Be.
DRACULA: THE BLOODY TRUTH
November 10 - December 11, 2021
By Le Navet Bete & John Nicholson
Professor Abraham Van Helsing leaps off the pages of Dracula and onto the stage to tell you, dear theatre-goer: Bram Stoker's novel had it all wrong! At last, Van Helsing hopes to set the record straight and bring the 'truth' of the legendary vampire and his terrifying story to light…even if he only has three amateur actor's to help him do it! Van Helsing and his troupe leap into 40 different characters on a breakneck journey from the Transylvanian mountains to the seaside town of Whitby. This North American Premiere will be a farcical side-splitter for family audiences and vampire lovers alike.
Art Market: Art and Craft Sale
November 15 – 18, 2018
The Art Market showcases an endless selection of top quality, hand crafted pieces from artisans working across a variety of mediums.
OK GO – The Live Video Tour
November 17, 2021
More than a decade after breaking the internet by dancing on treadmills, OK GO's zany, impeccably choreographed act has only grown in complexity – and fun.
3rd Annual Christmas Tree Decorating Event
November 22, 2021
Get into the holiday spirit with The CORE November 22nd from 4pm – 7pm for a special night of live entertainment, Christmas tree lighting, fireworks, and of course, Santa.
CUFF.Docs
November 28 - December 2, 2021
Showcasing the best in non-fiction films during CUFF's five-day documentary festival. The festival screens 12 full-length features, as well as shorts, varying in subject, style and genres within the art form.
View more events
If you want to see more events happening this week and the weeks to come, visit our Event Calendar.
Share your event
Have an event happening downtown? We want to hear about it! Either Add Your Event or email us at [email protected]
---