Whether you're gay, straight, or on the fence, Pride Week is a time to get out there to show your support and have some fun!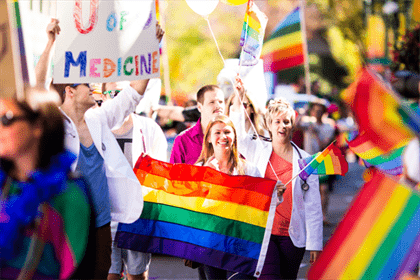 Photo Credit: Kelly Hofer
Pride Calgary exists to promote a very important message - equality and acceptance of Calgary's LGBTQA (Lesbian, Gay, Bisexual, Transgender, Queer/Questioning, and Ally) community.  Thank God for acronyms, cause that's a mouthful!
"A city free from discrimination against gender identity and sexual orientation" is their vision, as they attempt to "cultivate a city that embraces diversity with respect and dignity." 
There are a number of great events coming up between August 23-September 2, 2013 to celebrate that diversity!  Below are some of the highlights, click here for a full schedule.
FRIDAY, AUGUST 23, 2013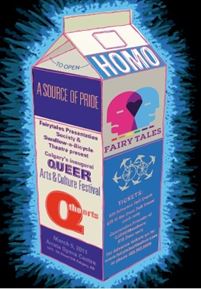 'Q the Arts' is Calgary's Queer Arts Festival, so prepare yourselves for a "queer" evening of art and culture.  This multi-arts extravaganza (for those 18+) starts at 7:30pm at the Hyatt Regency Calgary on August 23rd.  Expect a broad spectrum of artistic genres, including visual art, theatre, music, dance and spoken word, plus an appearance by Canadian rock band, The Cliks.
SATURDAY, AUGUST 31, 2021
You are invited to the Hyatt Regency Calgary on August 31st at 11:00am to join the Institute for Sexual Minority Studies and Services, the Calgary Sexual Health Centre, and the Premier to celebrate the launch of Camp fYrefly-Calgary!  Camp fYrefly is Canada's only national leadership retreat for lesbian, gay, bisexual, trans-identified, two-spirited, queer, questioning, and allied youth.  Tickets are $50 + GST.
The Second Annual Possibilities Bi-B-Q

Head over to James Short Park on August 31st between 5:00pm until 8:00pm for the 2nd Annual Bi-B-Q.  Admission is free and there will be plenty of live entertainment, including a kids crafting table, silent auction, live music, and an "All-Bodies, All-Genders Pan-Fashion Show."  The Possibilities Bi-BQ is open to all genders and all orientations, including gay and straight allies.
Pure Pride - Official Pride Dance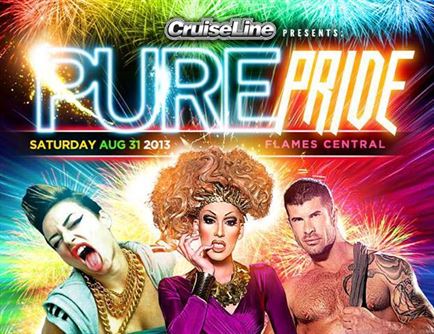 Pure Pride, touted as "the Official Party of Pride Calgary," will hit Flames Central on August 31st from 9:00pm-2:30am. The entertainment line-up includes Alaska, a finalist in season 5 of Rupaul's Drag Race Star, a number of high profile DJs, Luciana, "The Queen of Electro," live in concert, and a number of other interesting acts. Tickets:$40 and up
If you've never been to a drag show, put it on our bucket list. Guaranteed entertainment if you have an open mind and a sense of humor!
SUNDAY, SEPTEMBER 1, 2021
The Annual Pride Parade begins at 12:00pm on Sunday, September 1st at Center Street and 8th Ave SW (Stephen Avenue Walk), and proceeds west to Shaw Millennium Park to the Street Festival.  If last year's attendance is any indication, this year should be busy.  35,000 people can't be wrong!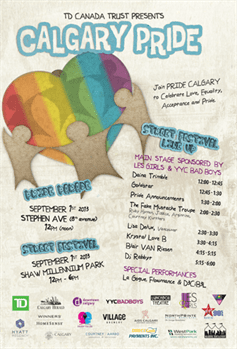 After the Pride Parade, head over to Shaw Millennium Park between 12:30-6:00pm for the street festival, which has a great line-up of live entertainment.
Pop by West's rooftop patio between 1:00-8:00pm on September 1st for the Hershe Day Club.  Their 15,000 square foot rooftop patio will host this sexy post-parade party. Featuring DJ Riki Rocket and Jenna J.
---