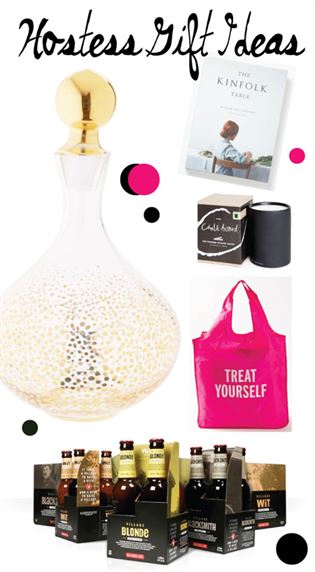 In the list of hard to buy for people, the host or hostess of your holiday party is definitely high on the list. While a bottle of wine is fairly customary, trying to bring something unique to the party will always be a hit. It doesn't have to complicated. Just think of what you would like to receive if you were hosting the party - what would make your holiday season a bit sweeter or easier? Think about the kind of gifts that would make you super happy to receive…
Make the home smell seasonally delicious as well as on-trend with this Chalkboard Candle. Not only can the recipient change the message on it but they will be able to reuse the container afterwards with tealights.
Chalkboard Candle, Roots
Who doesn't love getting beer for a gift? Especially if it is a delicious locally-made brew like Village. Pick up a 6-pack for the host and don't forget to pick some up for yourself too. 'Tis the season to drink and be merry.
Village Brewery 6-packs, ZYN
Speaking of drinking, you'll want to dress up your hosts' bar cart with this sparkly decanter from Indigo. Just don't forget to pair it with something tasty for them to fill it with.
Decanter, Indigo
We can all learn a thing or two from entertaining and small gathering experts, Kinfolk magazine. Thanks to their new cookbook, you'll be giving the gift of all the great ways create memorable parties.
Kinfolk Cookbook, Indigo
A great reminder for the hostess that is constantly working on making sure everyone is having a great time. Treat her to this awesome Kate Spade tote that she can fill with treats for herself!
Kate Spade Reusable Tote, Papyrus
All items available in Downtown Calgary.
---