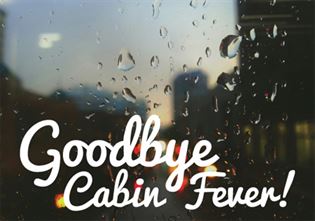 Time to pull out your parka again (not that you ever put it away), Calgarians. That nice long stretch of warm January weather and temperatures are starting to plummet again. Bitter wind-chills, snowfalls and treacherously icy sidewalks may be keeping us indoors but there are so many ways to combat impending cabin fever.
Downtown Calgary is filled with fun activities to keep you and your family on the go and never feeling bored. I've rounded up four of my favourite downtown destinations that will help cure those February blues.
Food Court Picnic in Devonian Gardens: One of my favourite places to disappear to in downtown Calgary is the Devonian Gardens on the top floor of the CORE Shopping Centre. The gardens have recently been renovated but were certainly a part of the childhood of anyone who grew up here. I recommend stocking up on the best treats at the food court like sushi, frozen yogurt and french fries and plunking down on a park bench or table in the gardens. Picture yourself somewhere else (perhaps not in cold and snowy Calgary?) and enjoy your surroundings. These gardens are an absolute novelty so take it and breathe their tropical oxygen.
Photobooth + Movie Date at Eau Claire Cineplex: The best way to hide out from cooler temperatures is to indulge in the latest blockbuster. I love going to the Eau Claire Cineplex because it is small and doesn't get crazy busy with families like the bigger theatres do. Be sure to stop by Eau Claire's iconic photobooth after the movie to capture a bit of old school goodness.
Downtown Public Art Circuit Tour + Falafel King: You may not even realize it but Calgary's public art collection residing in downtown is really quite something. Take it all in via the friendliest indoor walkways for folks trying to hide out from the cold - the +15 walkway! Download the Public Art Circuit App and the coordinating Podcast to enjoy this day of art and adventuring through these above ground tunnels. Oh, and don't forget to get some nutrition in by stopping at Falafel King on Stephen Avenue for a schawarma.
Bubble Tea + Groceries in Chinatown: Speaking of food, a day in Calgary's Chinatown will be a day full of culinary adventure. With seemingly endless eating opportunities and treats at every corner, you can spend your time stocking up on the best ingredients for making a feast that night. Poke your head into Diamond Bakery for some of the best Egg Tarts you will find in all of Calgary. This sweet little bakery is incredibly affordable. You'll be thirsty after all that grocery shopping so stop in at Tea Funny for some epic bubble tea tastings and perhaps some teryaki wings!
---