It's going to be an exciting weekend in Downtown Calgary! There is so much going on and many of the events and activities are free of charge. Take advantage of this beautiful weather and come down for a visit.
FOOD TRUCK PARTY ON STEPHEN AVE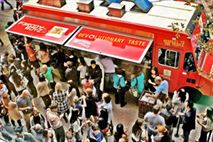 If you can't make it to Friday's Taste the Trucks II event in East Village, join us for another Food Truck Party on Saturday and Sunday from 11:00am to 4:00pm on in the 100 East block of Stephen Avenue. There will be 12 trucks there each day to celebrate the one-year anniversary of the Food Truck Pilot Project. 
Last year's event on Stephen Avenue was a Food Truck frenzy! One year later, with even more trucks on the scene, you can expect 2 days of feasting at this year's celebration. Saturday will feature the Noodle Bus, Red Wagon Diner, YYC Shawarma, Vasili's and more. Sunday will have Alley Burger, Cheezy Bizness, Holy Crepe, Perogy Boyz and many of your other favourites all in one location.
SATURDAY BOOK MARKET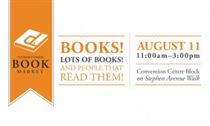 The Final Saturday Book Market of the summer will take place on August 11th from 11:00am to 3:00pm, come and peruse the bookstands, find a good read, engage in stimulating literary conversation or relive favorite childhood stories.
This Saturday's market will include a kid's reading area with a special circle time guest, and Calgary Public Library's 100th Anniversary summer reading activities. Book vendors include Glenbow Museum, Shelf Life Books, Books on 4th, Calgary Reads, author Ivan Dorin, and more.
FREE GUITAR LESSONS
Rock Guitar Shelter Foundation will be offering free guitar lessons from 11:00am to 4:00pm on August 11 and 12, 2012. Look for their brightly painted Mobile Charity Outreach trailer on Stephen Avenue.  Two volunteer teachers will be on hand to offer lessons on a small group basis and each lesson will be approximately one hour long.
TOMATO FESTIVAL AT MURRIETA'S
Murrieta's Bar & Grill is hosting Calgary's freshest culinary celebration from now until September 4!  Join them for their annual Tomato Festival and enjoy a unique menu, showcasing tomatoes. Reservations recommended.
CHEER ON TEAM CANADA AT STEPHEN AVE CELEBRATION SITE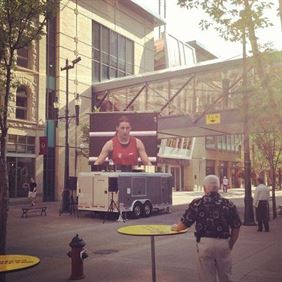 With the Olympics coming to a close soon, Sunday will be your last chance to catch CTV's coverage of the London 2012 Olympic Games at our Stephen Avenue Celebration Site.
Come watch FREE coverage on a state of the art LED screen at its NEW location by the Hyatt Regency on Stephen Avenue Walk, and cheer on Team Canada. The Calgary International Pin Club will also be set up to trade, buy and sell collectable pins from noon to 4:00pm. For the complete Stephen Avenue Celebration Site broadcast schedule check out www.downtowncalgary.com/celebration.
AFRIKADEY FESTIVAL AT PRINCE'S ISLAND PARK
Help celebrate African culture in Calgary with food, drink, art, music and dance at Afrikadey! Festival at Prince's Island Park on Saturday, August 11. Many talented African artists will be there including Alpha Yaya Diallo, Beatrice Byakika, Dele Sosimi, Emmanuel Jal, Krar Collective, Oliver Mtukudzi AKA Tuku, and Omara "Bombino" Moctar.
SHAKESPEARE IN THE PARK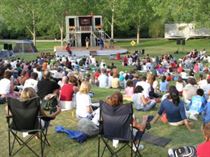 Friday, August 10 (editor's note: this was originally reported as being the 11th) is your last opportunity to catch the Theatre Calgary and Mount Royal collaberation of Shakespeare in the Park at Prince's Island Park. This year's play is A Midsummer Night's Dream. Admission is free and the play is suitable for all ages.
CJSW SUMMER CONCERT SERIES
CJSW will host a free family-friendly concert at Olympic Plaza featuring four local bands. Saturday's lineup includes Astral Swans, GreyScreen, Chron Goblin and Tel Fyr. Wondering what to wear? Check out our blogger Kait's tips on what to wear to summer outdoor concerts here.
SOUNDS OF CALGARY
Sounds of Calgary showcases the landscapes and artists of Calgary. Independent musicians are taken to Calgary landmarks where they improvise music to what they hear around them. You can join them during their recordings to catch it live (entrance fees may apply at some locations).
Next up, on August 11 at 2:00pm at the Chinese Cultural Centre is Kris Demeanor, Calgary's first Poet Laureate. Kris has put out six CDs of original music, and toured both solo and with his Crack Band. His music draws on classic folk storytelling and spoken word/rap.
CHINATOWN'S BACK ALLEY ART CAFE
The Calgary Chinese Community Service Association hopes you'll join them on August 11 between 10:00am-6:00pm to check out their Back Alley Art Cafe featuring local art. They will be revamping two murals behind the Silver Dragon Restaurant and invite local artists to help turn this unique space into a community art gallery. For more information email [email protected].
---