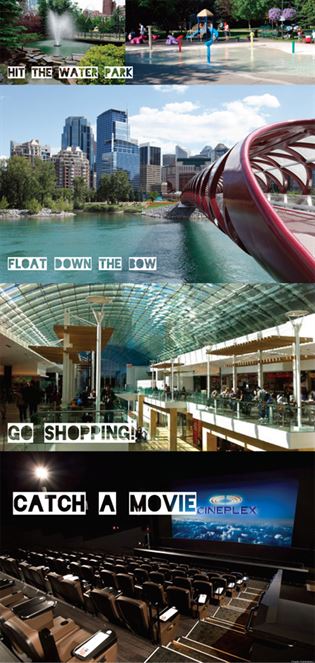 We've now entered the dog days of summer and sometimes the days can get surprisingly hot. If you and your family are looking for ideas to beat the heat until school starts up again, there is plenty to do right downtown Calgary.
You could spend half of your days indulging in the beautiful outdoors and half your days keeping cool with a bit of old fashioned air conditioning. Most importantly, when you are outdoors be sure to keep sunscreen reapplied throughout the day and drink plenty of water - it is so easy to get sunburned and dehydrated!
Eau Claire Plaza Water Park: An ideal spot to hit up especially if you have little kids in tow with you. A quick dip in the shallow wading pools will cool everyone down almost instantly. Not to mention, there is an ice cream truck with snacks and treats on site. Hop over the bridge to Prince's Island Park for a post-water break picnic in the shade.
By Eau Claire Market, 200 Barclay Parade SW
Floating Down the Bow River: This is easily one of longtime Calgary residents' favourite summer past-times. Floating down the river, especially in August when it is so hot and beautiful out is an enjoyable way to spend an entire afternoon. Pick up a raft down at Eau Claire Rapid Rent and set out for your water adventure. Make sure to bring some snacks and water for the ride, and wear your life jacket the entire time you are out on the water.
Spending a Day at The CORE: Why not get a head-start on shopping for your autumn or back-to-school wardrobe by wandering the air-conditioned halls of CORE Shopping. With plenty of great spots throughout the shopping centre to help you stay cool (think iced teas and frozen yogurt) you can spend the day window-shopping or blowing through your shopping budget. Top it off with a visit to the Devonian Gardens and enjoy the vistas of downtown Calgary from this beautiful indoor garden. Also a perfect spot for rainy summer days!
Eau Claire Cineplex: There isn't anything wrong with wanting to catch a summer blockbuster on a hot and humid afternoon. The air conditioning is heavenly, the popcorn is buttery and you can escape into a new story for an hour or two. The Eau Claire Cineplex is a great place to beat the heat at. Not only are they pleasantly less crowded than other theatres in the city but they often have a great mix of popular box office movies and lesser-known foreign or indie flicks - meaning you have a bit more to choose from when you make your movie day plans.
Enjoy these beat the heat ideas and don't forget to soak up this great weather while you can. Summer will be gone before you know it!
---