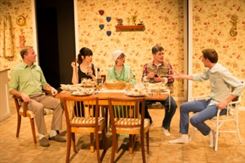 Imagine if instead of going to your dreaded family dinner, you could send someone else in your place. Someone to play your role in the family, a substitute, a surrogate. That's the premise of Lunchbox Theatre's premiere by Brieanna Blizzard, The Surrogate.
Set to the background of the parent's place, obnoxiously wall papered in a yellow floral patern, the family is setting up to have dinner. Mother (Laura Parken) is busy making dinner, while Nana (Roberta Mauer Phillips) drinks wine at the dinner table and Sister (Rachel Bowron) is pouring it. Brother (Devon Dubnyk) spends most of his time on his phone, while Dad (Kevin Rothery) complains about what's on the menu. It's a pretty typical family dinner until Sam (Christian Goutsis) walks through the door. He declares that Samantha, the actual member of the family, will not be attending family dinner, unless they make progress in communications. She's sent in a surrogate.
This development launches the family into logical states of emotion. First it's surprise, then denial, then acceptance. But these states of emotion seem quite rushed because at a run time of 60 minutes, the production can't linger on authentic emotional states. The family then proceeds to deal with the issues amongst them that they aren't communicating about such as the reason Brother doesn't bring home a girl and why Sister is in therapy.
As the family moves forward to deal with these conflicts with the complete stranger as a stand in for Samantha, they begin to make headway. And though the premise and reaction from the family is charming, the play doesn't pull together well enough. I wasn't able to buy that the family would be willing to drag out their skeletons and deal with them, because the Surrogate is telling them they have to.
Despite this, The Surrogate is a bit of fun, made so by the cast. Rothery definitely enjoys playing the Father and his moment of truth in the play is quite amusing. Phillips as the quirky Nana is refreshing and Goutsis is solid as the surrogate. Bowron, on the other hand, comes off as saying her lines instead of emoting.
The narrative of The Surrogate is amusing and fun but doesn't pull together enough to be solid.
Lunchbox Theatre's The Surrogate runs until February 22nd. Tickets and more information is available online.
Photo: Kevin Rothery as Dad,  Rachel Bowron as Sister, Roberta Mauer Phillips as Nana, Christian Goutsis as Surrogate and Devon Dubnyk as Brother. Credit: Benjamin Laird
---