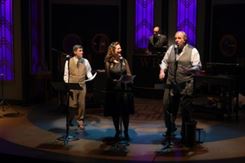 Vertigo Theatre's Vintage Hitchcock is a live radio play that features the telling of three of Hitchcock's thrillers: The Lodger (1927), Sabotage (1936) and The 39 Steps (1935). The audience is transported back to the 1940s, when radio was the primary media form, and watch as five actors - Anna Cummer, Katherine Fadum, Christian Goutsis, David Lereaney and Grant Linneberg - create the narrative of Hitchcock's films.

It's fascinating to watch the cast create Foley (sound effects) that brings the stories to life. Characters move about the stage (designed by Scott Reid) that is adorned with microphones. Halved coconuts are the sound of horse hooves and lettuce is made to sound like someone being stabbed. And there is always the sound of gunshots.
All members of the cast are strong in their delivery, in timing, and characterization. All of the accents put on by the actors on stage were on point. Anna Cummer's Stevie in the piece Sabotage is very strong. It's really easy to get lost in the stories, but unfortunately these thrillers aren't filled with suspense. The narratives lack the 'edge of your seat' intrigue. Maybe because there seems to be another narrative bubbling at the surface that doesn't really get addressed. The story of the characters playing the roles on the radio, have interactions that seems to tell their own story, but this narrative never comes to light.
Vintage Hitchcock is a charming and fascinating live radio play. It features strong performances but doesn't tell nail-biting suspense stories.
Vintage Hitchcock plays at Vertigo Theatre and runs until December 8th. Tickets and more information available online.
Photo Credit: Benjamin Laird Photography
---