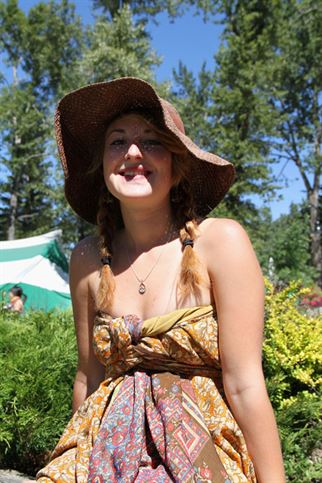 With Coachella just recently wrapping up, I couldn't help but be inspired with all of the festival style photos popping up on Instagram and online. Over the years I've photographed street style at Sled Island and Calgary Folk Festival, among a few other festivals that happen in our city each summer season, and as we get closer, I thought it would be a great time to start the inspiration for this years' summer festival wares.
What I love most about festivals is that pretty much anything goes. I've photographed a lot of denim, fringe, long flowy skirts, sandals, and beautiful distinct hats. If you want to wear flowers in your hair, or a headband and find your inner 60s queen, or go to the other side with something more rock and roll, the fashion world is really your oyster. The weather will be huge in determining your winning ensembles, although that can be made fun with your layering and head gear options. In the least, make sure you're prepared with a light weight jacket or sweater and an umbrella.
Among the people that I've photographed I have a lot of favourites and a number of images that to me are the epitome of festival style. So to get us inspired and excited about this summer and the festivals that await, here are a few amazing people and festival outfits that I've captured over the past few years. 
---