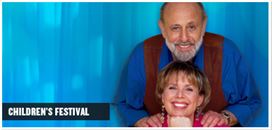 (May 21st to 24th) - Come on down to Downtown Calgary to enjoy some of the world's foremost children's entertainers. The legendary Sharon & Bram are just two of the performers who will delight young audiences in May.
(May 6th to June 15th) - The classic character floats in to Downtown Calgary on her enchanted bumbershoot! These tickets are moving fast, so step in time!

(May 30th & 31st) As a part of the Canadian Celiac Convention you can check out an entire market dedicated to Gluten Free products at the Telus Convention Centre.

(May 27th) - The River Café is known for it's picturesque setting and amazingly prepared locally sourced food, but did you know it's also known for their special dinners? This dinner features a 5 course menu and a visit from Blue Mountain Vineyard & Cellars Owner Christie Mavety. The wine will be expertly matched with Chef Andrew Winfield's locally inspired menu.

(May 16th & 17th) - Enjoy the music of the King of Pop by the Calgary Philharmonic Orchestra!
More Downtown Calgary Events for May
Sign up for our Newsletter below!
---