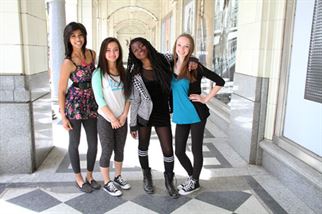 As someone who hunts for style, the most entertaining part for me is seeing how people choose to transition from season to season. This is even more perfect in a city such as Calgary, where anything weather wise can happen in a single day - sun, snow, hail, rain, wind - and how people choose to battle the elements while remaining fashionable can be pretty interesting and cool.
In one single day I've spotted someone wearing a tank top and shorts, while the woman sitting on the train beside me is wearing a parka jacket with a fur lined hood.
To say that anything goes is a bit of an understatement. But what I can say for sure is that I had a really great time jetting from inside to outside to find pretty much everything under the sun - finally!
So cheers to toques, sunglasses, shorts, running shoes, sky high heels, funky hair colour and bomber jackets, among others. I even found a stylish young lady visiting our city from China - and her street style was certainly that!
This post goes out to crazy weather and interesting fashion choices all over YYC's Downtown core!
---