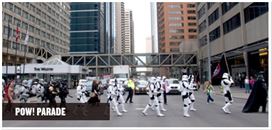 The POW! Parade of Wonders is western Canada's only cosplay parade. Find out more information and register here. You can watch the POW! Parade in downtown Calgary along 3rd Street SW or along Stephen Avenue. The parade marches from Eau Claire to Olympic Plaza on Friday, April 25th starting at 11am. 

Calgary Dance Stampede kicks off on Friday April 25th with Free Friday Dance Workshops from 7 to 9pm. Learn Swing, or Cha Cha, or a new Line Dance. On Saturday there are more workshops or you can watch the competitions.

The Heart Truth is the Heart and Stroke Foundation's signature awareness campaign which increases understanding among women on ways to reduce their risk of heart disease and stroke, and give them the tools they need to protect themselves. Heart disease and stroke is a leading cause of death in Canadian Women.

Third Street Theatre presents the world premiere of The Passion of Sergius and Bacchus by the Queer Theatre Creation Ensemble. This three-person historical drama is on original work based on the controversial true story of two Roman soldiers married by the Christian church in 300 AD and martyred for their faith by the Roman Empire. The production runs April 22rd – May 3rd, 2014 at EPCOR CENTRE's Motel and is the second creation work by the Queer Theatre Creation Ensemble.

Hyatt Regency Calgary is a place where high expectations aren't just met- they're exceeded and we're looking for talented people to join our team! Please come by our Spring Job Fair on Tuesday, April 22 between 2-6pm in the Hyatt Regency Calgary Imperial Ballroom. Hiring: Food and beverage servers, bartenders, seasonal patio servers, general maintenance, front desk, door attendants, pastry cooks, and aestheticians and registered massage therapists in Stillwater Spa.
-
For more great events, check out the Downtown Calgary Events Page and the #IAMDOWNTOWN micro-site
---