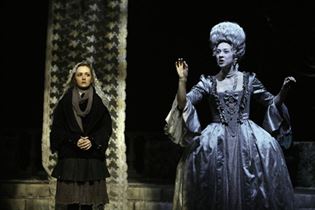 The Red Priest (Eight ways to say goodbye), presented by Alberta Theatre Projects is an exploration of a the power of love and music that ties us together. It is a play that had its world premiere in the Enbridge playRites Festival over a decade ago, with the same company. It is revisited now, a story told on a beautiful stage, complete with some strong acting and impressive lighting.
The play tells of a young violinist (Allison Lynch) who wanders into a snow covered garden. In her imagination, the statues come to life and she witnesses the story of a wealthy French woman (Jamie Konchak) in the 1700, who employs the starving Vivaldi (Ashley Wright) to teach her to play violin in order to win a bet her husband made. Vivaldi and the woman have more in common than what meets the eye, and as they spend more time together, they become more candid. We discover that they are both imprisoned by their own lives and they are both struggling for their own kind of freedom.
The Red Priest is performed on a beautifully designed set by Gillian Gallow, with trees covered in snow, lit in blues and golds by Harry Frehner. Gallow also designed the elaborate 18th century costuming that sets the play in the time period. All of these elements make the play very lovely to watch, most noteworthy is a dream sequence where a veil drops down, beautifully lit by Frehner and Lynch drapes it around herself.
The play is also backed by strong performances, both by Konchak and Wright. Konchack is fully a rich woman, imprisoned by her rich life, fully aware that her other option is poverty. Wright is the touchingly honest and talented Vivaldi. Lynch is disappointingly underused in the production, the audience left longing for more music on her violin, or more incorporation into the narrative. Lynch spends almost the entire play watching in the background, often not allowing the viewer to fully immerse themselves in the story.
The Red Priest isn't a play without flaws, but it a nice exploration of life with fleeting moments of true freedom.
The Red Priest presented by Alberta Theatre Projects runs until May 17th. More information is available online.
Photo Credit: Trudie Lee Photography
---