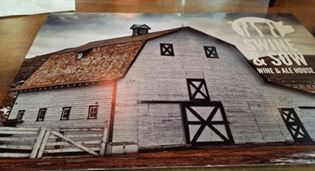 The Swine & Sow Wine and Ale House is located at 131-6 Avenue S.W., in the historic Lougheed building. It opened in early March 2014 and occupies the space that was once the ParkerHouse Grill and Wine Bar. Although the two restaurants share the same owners, CA Restaurant Enterprises, there are few similarities between the old and the new.
Executive chef Ian Smith (also of the Trib) created the menu, featuring local ingredients and what is referred to as "farmhouse cuisine". In keeping with that concept, the interior of the restaurant is what you might expect to see in an upscale farmhouse – rustic, yet modern, with a splash of red throughout. I did notice that they retained the beautiful hand-blown glass chandeliers, which do double-duty as works of art.
There are two lounges: the ale side lounge and the wine side lounge. The ale lounge contains the bar, complete with bar seating. Both lounges have booths and several tables. The dining room occupies the mezzanine, where guests can dine in a more private setting.
Not surprisingly, the Swine & Sow predominantly features pork on their menu. So, if you are ready for a "pig-out", this is the restaurant for you.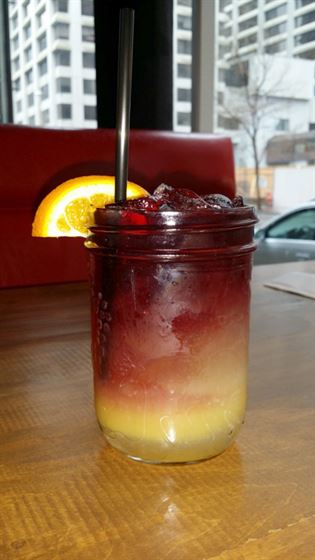 After we were seated, I perused the drink menu and was challenged by their vast selection of craft cocktails, wine, and beer (on tap and in bottles). How was I to choose? Then, I spotted the one — a craft cocktail called the "Swine-gria". That was a no-brainer; I wanted to go with the pork theme, plus it is a tasty combination of blood orange vodka, grapefruit, house tea, and Tempranillo. It was yummy and refreshing.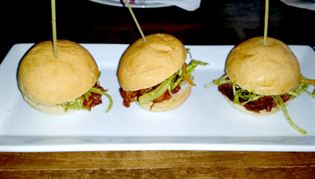 For a starter, my husband and I shared the pork bellies — they were salty (as expected), crispy, and delicious. As my main meal, I ordered the pulled pork sliders, from the starters, and a farmhouse salad. The sliders, topped with the house slaw and provolone, were exceptionally flavorful.
The salad was perfectly dressed and was a combination of feta, tomato, green beans, radishes, pickled red onion, and potatoes. Although this part of my meal did not contain pork, it was a great accompaniment to the rest of my meaty meal. My husband was clearly enjoying his mac and cheese (with shredded ham hock), so I had to try it – it was indeed tasty.
After indulging in all of that goodness, there was no space in our pork-filled stomachs for dessert. But, rest assured, some of the desserts do contain pork. The maple bacon crème brule sounds divine.
If you are in the mood for something else, they also serve chicken, seafood, and pasta dishes. But, may I suggest you add a side of house bacon?
Check out their website (swineandsow.com) for their hours, full menu and to make reservations.
P.S. - Their location is on a main bus route and close to the C-train, so there really is no excuse not to go.
---