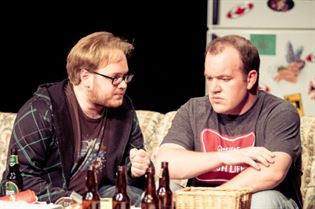 Inertia: a tendency to do nothing or to remain unchanged.
Inertia is at the root of Theatre BSMT's production The Basement Boys, by Steven Owad. The play is the winner of the company's second annual BSMT dwellers play-writing competition.
It tells of three men Vinnie (Greg Wilson), Daryl (DJ Gellatly) and Jamie (Rene Abdon) who all live with their parents. They spend their time in Vinny's basement, playing video games, eating pizza and getting high. Things are comfortable and easy.
But Jamie is getting a little tired of the same old thing. He wants to move away and buy a house (with four thousand dollars) and he wants to take Kate (Jesse Lynn Anderson) with him. The problem is that all the other men seem to have a thing for Kate, especially Vinnie, despite her being with his brother, Tony originally. So Vinnie does something impulsive to try a move forward and there is no going back.
The thing that stands out about this production is Owad's writing. The interactions between the friends rings truth and doesn't come off as scripted. They interrupt each other, they don't complete thoughts. It makes for an authentic production. The performances are all quite well done, with a bit of stumbling here and there. Wilson holds the audience attention, depicting Vinnie's internal struggle very well along with his complicated feelings towards the departure of his brother.
The Basement Boys has some moments where the script and acting could use a little work. But it's a play that explores the inertia that is keeping boys in the basement.
Photo: Greg Wilson and DJ Gellatly
Credit: Eric Peters
---