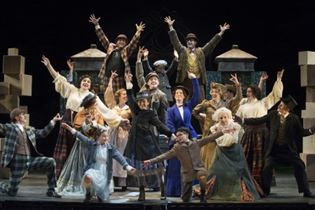 When P.L Travers, the author of Mary Poppins was approached for the rights to create a stage musical of the famous magical nanny, she agreed as long as no one who worked on the movie was involved and that the creative team had to be British. A couple of years ago, Broadway Across Canada presented Mary Poppins and now Theatre Calgary with Citadel Theatre are presenting their version of the show.
The musical tell the story of Mary Poppins, similarly to the Disney movie, with some songs that are completely brand new to the stage adaptation. Theatre Calgary's production has taken over 150 people to bring it together and it is quite a grand production that had opening night's audience on their feet and singing along.
The key to a successful production of Mary Poppins is having a strong anchor playing the stern and magical nanny and Theatre Calgary doesn't fail in this regard. Blythe Wilson is charming and a great singer and more than fills Julie Andrew's shoes. Also of note is Andrew MacDonald-Smith's Bert. He can sing and dance and 'Chim Chim Cheree' right beside Wilson. The rest of the cast are all very strong in this nicely directed and tightly choreographed production. Jack Forestier's Michael Banks is also a standout performance.
Director Michael Shamata has ensured that the lessons in Mary Poppins stand out in the production. Lessons like try and see beyond what is in front of you and money isn't as important as the people in life. Shamata pulls these elements out of the narrative and focuses less on the darker aspects of the story, such as forcing children to drink medicine when they misbehave and torturing 'evil' people.
It doesn't mean that this production is without any faults. The second half isn't quite as compelling as the first and the ending of the production slides into being a bit cheesy. But this performance of Mary Poppins is thoroughly enjoyable and joyful with Theatre Calgary putting in a great deal of entertainment on Maxbell Theatre's rotating stage.
Theatre Calgary's Mary Poppins runs until June 15th. More information is available online.
Photo Credit: David Cooper
---