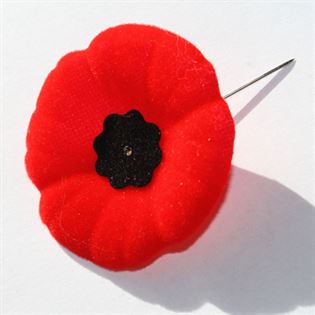 This year, Remembrance Day is Tuesday, November 11th.
To mark the occasion and to remember the service of those who have been killed or injured in the line of duty, there are a number of ceremonies happening in the downtown area.
UPDATE:
Calgary Transit will be running on a Saturday level of service. Street parking is free today, as well as holiday rates are in effect for surface lots and parkades managed by the Calgary Parking Authority. Veterans park for free and there will be FREE parking at Lot 6 - 311 8th St SW.
Central Memorial Park
Each year a Remembrance Day ceremony is held at cenotaph of Central Memorial park, which is on 4th street SW between 12th and 13th Avenue. Central Memorial park is Calgary's oldest park, with a memorial statue erected in 1924 to commemorate soldiers that served in World War 1 and an equestrian statue to commemorate soldiers that fought in the second Boer War.
Kerby Centre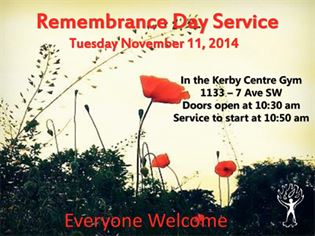 This year the Kerby Centre is opening it's doors for a service in their gymnasium. The Kerby Centre is located at 1133 7th Avenue SW and doors open at 10:30 am.
Golden Age Club
There will be a ceremony at 11AM at the Golden Age Club. Everyone's welcome to attend! The Golden Age Club is at 610 – 8 Ave. SE in the East Village.
Poppy Plaza
While there is no official ceremony taking place at Poppy Plaza, the area is just across the river from downtown and is a great place to reflect on the reason for remembrance. The park features quotes from world leaders, relating to honour, hope and sacrifice in war time. Poppy Plaza is located at 1101 Memorial Dr. N.W. and is just a short walk west from the Peace Bridge.
Jake's Gift & Liberation Days
Liberation Days is a wartime play from Theatre Calgary that runs until November 9th and Jake's Gift is a new play at Lunchbox Theatre that will run until November 22nd. Military personnel and veterans can get free admission to Jake's Gift. For more information on the award winning Jake's Gift, visit www.jakesgift.com
-
Did we miss something? Email [email protected] and let us know
---