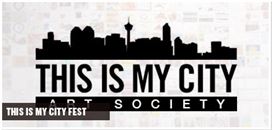 For more events, see the Downtown Calgary Events Page
APRIL 11 - 17, 2014 - An interdisciplinary arts festival that spans the inner-city. Starting April 11th with a mixed-ability dance performance, as well as story telling, and film festival. Featuring a theme of the Flood of 2013, the festival explores art and performance from the community and connects organizations with arts mentors that help bring the festival to life!

APRIL 7 - 13, 2014 - CUFF elevates Calgary's cultural landscape with the best in local and international independent cinema. This year's crop continues the tradition of cutting edge, fringe, challenging, and sometimes controversial films. With a film for almost every taste, you can be sure the 11th annual Calgary Underground Film Festival will appeal to your inner weirdo.

April 10, 2022 - Calgary's top restaurants are paired with celebrities in this fun, fast, furious competition. There are celebrities galore, live music, fabulous food - all in support of Alberta Theatre Projects.

Until Apr 19, 2022 - Standing in the hospital parking lot after the birth of his first child, Dave realises that he has no idea where he parked, and no crib built for his new son at home! Dave explores the awe and terror of being a new father as he re-examines his own upbringing in a very conservative Catholic family.

Apr 9 - 18, 2014  - As part of providing Calgarians with more transportation choices in Calgary's busiest area- the Centre City- and fulfilling Council's motion to determine an updated East-West-North-South separated Cycle Route Network through the Centre City, The City is taking a recommended Cycle Track network to SPC on Transportation and Transit on April 16.
Feel free to attend the information sessions below to learn more about the recommended cycle track network, where staff will be on hand to answer questions and collect feedback:
Hotel Arts (119 12 Avenue S.W.), Wednesday, April 9, 5-8 p.m.
Devonian Gardens (#400, 317 7 Avenue S.W.), Thursday, April 10. 11:30 a.m.-1:30 p.m.
Dragon City Mall (328 Centre Street SE), Thursday, April 10, 2:30-5 p.m.
A display summarizing the recommended cycle track network will also be set up at the CORE Shopping Centre, +15 level by Holt Renfrew (324-8 Avenue S.W.), from Thursday, April 10, to Friday, April 18. An online feedback form will be available from April 7-11 to people who are not able to make it to the information sessions, at www.calgary.ca/cycletracknetwork
If you want this info emailed to your inbox each week, sign up for our NEWSLETTER
For more Downtown Calgary events visit our website
---