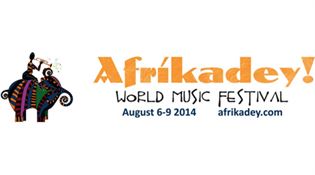 Did you know that music can create peaceful harmony across racial divisions and has the power to bring various communities together? Are you a fan of cultural celebration and the strengthening of our community?
Come and experience the joy of music and other forms of art at the 2014 Afrikadey! World Music Festival from August 6 – 9, 2014. The festival will take place at various venues around Calgary, ending with a concert in Prince's Island Park on August 9, 2014.
The festival is brought to you by the Afrikadey! Arts & Culture Society (AACS), which is a non-profit organization that encourages cross-cultural communication among communities, artists, youth and others who are interested in various forms of African art. Our goal is to promote social cohesion, cultural diversity and global awareness though music, dance, spoken word, and other artistic outlets.
This year's line-up includes the American Grammy award winning alternative hip-hip group, Arrested Development, the amazing Congolese guitarist, Diblo Dibala, the inspiring Zimbabwe band, Mokoomba, and the great Bata Osun of Nigeria.
Other artists performing at the festival are Kara Kata Afrobeat Band, Heaven Beatbox, Quinteto Alegra, DJ Newboy, and many more.
"Every year we showcase diverse artists who bring music, arts and culture into our city and this year is no different", says Tunde Dawodu, Artistic Director at AACS.
For 23 years Afrikadey! has remained one of the world's most established festivals. It strives to bring world-class talent to Calgary so that music lovers of all ages can enjoy a day of festivities at Prince's Island Park. "Our presence in Calgary is important because it brings Calgarians together to celebrate arts and culture in our city", says Dawodu.
We encourage all festival goers to come and experience vibrant artistic presentations. Afrikadey! is offering a $10 discount on $30 ticket prices for the Prince's Island Park celebration from now until June 30, 2014. Please take advantage of our discount rate and visit www.afrikadey.com to purchase advanced tickets now!
If you'd like to win a pair of tickets to Afrikadey! Leave a comment with the name of at least one performer from a previous Afrikadey! We'll randomly draw a winner from the list of eligible entries.
-
Editor's Note: this has been a guest post on behalf of the Afrikadey! Arts & Culture Society. If you or your organization would like to submit a guest blog post, please email [email protected]
---